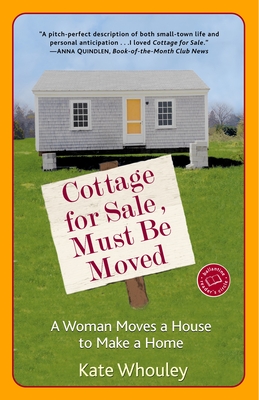 Cottage for Sale, Must Be Moved
A Woman Moves a House to Make a Home
Paperback

* Individual store prices may vary.
Other Editions of This Title:
Hardcover (5/1/2004)
Description
When Kate Whouley saw the classified ad for an abandoned vacation cottage, she began to dream. Transport the cottage through four Cape Cod towns. Attach it to my three-room house. Create more space for my work and life. Smart, single, and self-employed, Kate was used to fending for herself. But she wasn't prepared for half the surprises, complications, and self-discoveries of her house-moving adventure.

Supported by friends and family, and egged on by Egypt, her bossy gray cat, Kate encountered a parade of town officials, a small convoy of State Police, and an eccentric band of house-movers, carpenters, and tradesmen. She found herself dancing on the edge of the gender divide–infatuated with trucks, cranes, tools, construction terms, and a dreamy mason who teaches her the history of concrete.

Sketched with a deft hand and told with an open heart, Cottage for Sale is a deeply personal story that captivates, inspires, and delights. In one remarkable year, Kate moved a cottage and created a home. Once you cross the threshold, you'll never want to leave.
Praise For Cottage for Sale, Must Be Moved: A Woman Moves a House to Make a Home…
"A pitch-perfect description of both small-town life and personal anticipation . . . I loved Cottage for Sale."
–ANNA QUINDLEN, Book-of-the-Month Club News

"Highly entertaining."
–The Wall Street Journal

"Whouley's gentle memoir . . . deftly explores the themes of independence, pride of place and loss."
–The New York Times

"There is so much here you will want to read it twice. . . . It's one of those books in which the author has taken something personal and made it universal."
–Booklist
Ballantine Books, 9780345480187, 336pp.
Publication Date: April 26, 2005
About the Author
Kate Whouley is a writer and bookstore consultant. She is the author of two books: Cottage for Sale, Must Be Moved and Remembering the Music, Forgetting the Words. Whouley lives in a house-and-cottage on Cape Cod.
The book opens with Kate admitting she is "a compulsive reader of the classifieds." She describes classified ads "as the skeletons of stories, waiting for me to invent their skin." How did this admission affect your perception of Kate? Was your initial impression confirmed, or did it change as the story unfolded?
"It takes a village to move a cottage," Kate writes. What roles do Kate's family and friends play during her house-moving year? How does her sense of community expand during the course of the project?
Town Hall put Kate through her paces with paperwork, hearings and challenges. She bought the cottage before she had permission to undertake the project. Did you see this as a calculated risk or an act of faith? How do faith and risk-taking contribute to our lives?
Kate developed a series of individual relationships with the workmen on her project. Discuss the evolution, differences or similarities in her relationships with Ed, John, Mr. Hayden and Vito. Whom among the workmen would you most like to meet?
There are many moments in the story when Kate grapples with being female. Did you identify with her struggle? Have you ever felt limited or empowered by your gender?
"Aren't there a million different kinds of imagination?" Kate asks, as she contemplates "how much creativity it takes just to get through an average day." How does Kate's imagination influence the outcome of the project and the story? What kinds of imagination do you use in your own life?
"The man will arrive when I have room for him." Kate hopes her expanded home will help her love life. Do you believe there is some truth in this, or do you see it as just wishful thinking?
Readers and reviewers have mentioned they were "surprised" by this book; some have confessed they never thought a book about moving a house could be so compelling. What aspects of Cottage for Sale were most compelling for you? Aside from the house-moving plot, what do you think this book is about?
or
Not Currently Available for Direct Purchase