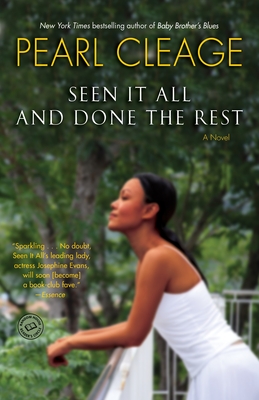 Seen It All and Done the Rest (Paperback)
One World, 9780345481139, 320pp.
Publication Date: February 24, 2009
Description
For Josephine Evans, home was on the stages of the world where she spent thirty years establishing herself as one of the finest actresses of her generation. Josephine was the toast of Europe, and her fabulous apartment in Amsterdam's theater district was a popular gathering place for an international community of artists, actors, and expatriates who considered themselves true citizens of the world. Josephine lived above and beyond the reach of conventional definitions of who and what an African American diva could be, and her legions of loyal fans loved her for it. She had a perfect life and enough sense to live it to the hilt, but then a war she didn't fully understand turned everything upside down, thrusting her into a role she never wanted and was not prepared to play. Suddenly the target of angry protests aimed at the country she had never really felt was her own, Josephine is forced to return to America to see if she can create a new definition of home. Camping out with her granddaughter, Zora, who is housesitting in Atlanta's West End; and trying to avoid the unwanted attentions of Dig It , the city's brand-new gossip magazine, Josephine struggles to reclaim her old life even as she scrambles to shape her new one. Hoping her friend Howard Denmond is as good as his word when he promises to engineer her triumphant return to the European stage, Josephine sets out to increase her nest egg by selling the house her mother willed her, only to find the long-neglected property has become home to squatters who have no intention of leaving. But an unexpected reunion with an old friend offers Josephine a chance to set things right. Spurning an offer from unscrupulous land developer Greer Woodruff, Josephine gathers new friends around her, including Victor Causey, a lawyer whose addictions left him homeless but still determined to protect his mother; Louie Baptiste, a displaced New Orleans chef hoping to return to the city he loves; and Aretha Hargrove, recovering from her role in the same scandal that sent Zora running for cover. As Greer gets serious about her plan to tear the community apart, Josephine finds herself playing the most important role of her life, showing her neighbors what courage really is and learning the true meaning of coming home. From the Hardcover edition.
About the Author
Pearl Cleage is the author of What Looks Like Crazy on an Ordinary Day . . ., an Oprah's Book Club selection; Some Things I Never Thought I'd Do, a Good Morning America Read This! book club pick; Babylon Sisters, for which she was named the 2006 Go On Girl! Book Club Author of the Year; and Baby Brother's Blues, winner of the 2006 NAACP Image Award and the African American Literary Award for fiction. She is the author of two works of nonfiction: Mad at Miles: A Black Woman's Guide to Truth and Deals with the Devil and Other Reasons to Riot; as well as the poem We Speak Your Names. She is also an accomplished dramatist whose plays include Flyin' West and Blues for an Alabama Sky. Cleage lives in Atlanta with her husband, Zaron W. Burnett, Jr. From the Hardcover edition.
Praise For Seen It All and Done the Rest…
Praise for Pearl Cleage's Baby Brother's Blues

"An irresistible story filled with fun, sexy, interesting characters . . . [Cleage is] at the top of her form."
–Essence

"Exciting, fast-moving . . . reads like an African American, Southern version of Armistead Maupin's Tales of the City . . . The stories intersect, spawning misunderstandings, deceptions, betrayals, broken promises and double crosses. It's all great fun."
–The Washington Post

"All these lives and stories overlap and collide with seamless efficiency in Cleage's fluid, poetic prose."
–Chicago Sun-Times

"Thought-provoking and powerful . . . an intricate tale of politics, blackmail, and murder . . . Cleage proves that she has mastered the art of the written word."
–Urban Reviews

"Cleage's descriptions are lively, her dialogue snappy, and the problems she describes are urgent and timely."
–Deseret Morning News

"The reader is engrossed to the end."
–Booklist
Advertisement