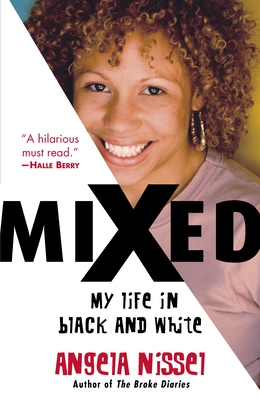 Mixed (Paperback)
My Life in Black and White
Villard, 9780345481146, 240pp.
Publication Date: January 30, 2006
* Individual store prices may vary.
Description
"Tell anyone who asks that you're half-black and half-white, just like David Hasselhoff from Knight Rider."–Angela's mother

"Love has no color," insist Angela Nissel's parents, but does it have a clue? In this candid, funny, and poignant memoir, Angela recounts growing up biracial in Philadelphia–moving back and forth between black inner-city schools and white prep schools–where her racial ambiguity and doomed attempts to blend in dog her teen years. Once in college, Angela experiments with black activism (hoping to find clarity in extremism), capitalizes on her "exotic" look at a strip club, and ends up with a major case of the blues (aka, a racial identity problem). Yet Angela is never down for the count. After moving to Los Angeles, she discovers that being multiracial is anything but simple, especially in terms of dating and romance.
By turns a comedy of errors and a moving coming-of-age chronicle, Mixed traces one woman's unforgettable journey to self-acceptance and belonging.

Praise for Mixed

"I love Angela Nissel's writing. Reading Mixed was like getting a letter from a best friend I forgot I had. How ironic that a book written by someone who felt like no one "got" her will surely be one of those rare books everyone gets- black, white, both, neither. Hilarious, sweet, and honest, Mixed is the perfect read if you've ever felt like the one standing on the outside-- and let's face it, who hasn't? - -Jill Soloway, author of Tiny Ladies in Shiny Pants

"Nissel is humorous, poignant, and proud yet also empathetic and generous as she recounts her constant struggle to answer the perennial question persons of mixed race seem required to ask of themselves in our society–where do I fit in?.... All readers stand to learn from her account." — Booklist

"Colorful anecdotes, marvelous dialogue and a thoughtful narrative make this memoir a delight."–Kirkus Reviews (starred review)

"If David Sedaris was a straight biracial female, this is the book he'd write. This book is so funny I've already started telling people I helped Angela write it." -- Bill Lawrence, creator of Scrubs

"Growing up black and white, I always felt I had the best of both worlds. I feel the same way about Mixed. It's the perfect blend of hilarious comedy and sometimes tragic reality." -- Yvette Lee Bowser, creator of Living Single and executive producer of Half and Half
"Mixed is a hilarious must-read for anyone searching for the enchanting path to self-discovery. Angela Nissel's precise account of living the mixed race experience not only hit home with me, but the journey is deliciously enlightening and heart-rending at the same time. It's a journey well worth taking." --Halle Berry
About the Author
Angela Nissel was born and raised in Philadelphia, where she graduated from the University of Pennsylvania with a degree in medical anthropology. She later started a dotcom, Okayplayer.com, which is still alive and well, but she left it permanently to the care of its cofounder after The Broke Diaries was published. She decided to pursue writing full time and finally ventured out of Philadelphia to Hollywood.

Upon arriving in Hollywood, she learned that just because people call themselves producers and say they can give you a job writing the screenplay of your book, it doesn't mean they can. Broke, she put a few possessions on eBay; the winning bidder on one item was an executive at Warner Brothers who had read The Broke Diaries and who then introduced Nissel to her television literary agent. This agent sent copies of The Broke Diaries to everyone hiring comedy writers, and soon Nissel had numerous job offers. She accepted a position as a staff writer on NBC's medical comedy, Scrubs. She's been there for four years and is currently consulting producer of the show.

This is the only job she's had where her medical anthropology degree has come in handy.

Visit the author's web site at www.angelanissel.com.
Praise For Mixed: My Life in Black and White…
Praise for Mixed
"I love Angela Nissel's writing. Reading Mixed was like getting a letter from a best friend I forgot I had. How ironic that a book written by someone who felt like no one "got" her will surely be one of those rare books everyone gets- black, white, both, neither. Hilarious, sweet, and honest, Mixed is the perfect read if you've ever felt like the one standing on the outside-- and let's face it, who hasn't? - -Jill Soloway, author of Tiny Ladies in Shiny Pants

"Nissel is humorous, poignant, and proud yet also empathetic and generous as she recounts her constant struggle to answer the perennial question persons of mixed race seem required to ask of themselves in our society–where do I fit in?.... All readers stand to learn from her account." — Booklist


"Colorful anecdotes, marvelous dialogue and a thoughtful narrative make this memoir a delight."–Kirkus Reviews (starred review)

"If David Sedaris was a straight biracial female, this is the book he'd write. This book is so funny I've already started telling people I helped Angela write it." -- Bill Lawrence, creator of Scrubs

"Growing up black and white, I always felt I had the best of both worlds. I feel the same way about Mixed. It's the perfect blend of hilarious comedy and sometimes tragic reality."
-- Yvette Lee Bowser, creator of Living Single and executive producer of Half and Half

"Mixed is a hilarious must-read for anyone searching for the enchanting path to self-discovery. Angela Nissel's precise account of living the mixed race experience not only hit home with me, but the journey is deliciously enlightening and heart-rending at the same time. It's a journey well worth taking." --Halle Berry

Praise for The Broke Diaries:
"Unsentimental prose and [a] wicked sense of humor."–USA Today
"Searing, laugh-out-loud commentary."–Honey