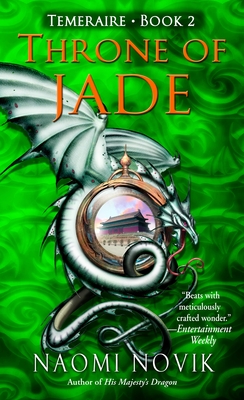 Throne of Jade (Mass Market Paperbound)
Del Rey Books, 9780345481290, 398pp.
Publication Date: April 25, 2006
Description
When Britain intercepted a French ship and its precious cargo-an unhatched dragon's egg-Capt. Will Laurence of HMS Reliant unexpectedly became master and commander of the noble dragon he named Temeraire. As new recruits in Britain's Aerial Corps, man and dragon soon proved their mettle in daring combat against Bonaparte's invading forces. Now China has discovered that its rare gift, intended for Napoleon, has fallen into British hands-and an angry Chinese delegation vows to reclaim the remarkable beast. But Laurence refuses to cooperate. Facing the gallows for his defiance, Laurence has no choice but to accompany Temeraire back to the Far East-a long voyage fraught with peril, intrigue, and the untold terrors of the deep. Yet once the pair reaches the court of the Chinese emperor, even more shocking discoveries and darker dangers await.
About the Author
Naomi Novik is the acclaimed author of His Majesty's Dragon, Throne of Jade, Black Powder War, Empire of Ivory, Victory of Eagles, Tongues of Serpents, Crucible of Gold, and Blood of Tyrants, the first eight volumes of the Temeraire series. She has been nominated for the Hugo Award and has won the John W. Campbell Award for Best New Writer, as well as the Locus Award for Best New Writer and the Compton Crook Award for Best First Novel. She is also the author of the graphic novel Will Supervillains Be on the Final? Fascinated with both history and legends, Novik is a first-generation American raised on Polish fairy tales and stories of Baba Yaga. Her own adventures include pillaging degrees in English literature and computer science from various ivory towers, designing computer games, and helping to build the Archive of Our Own for fanfiction and other fanworks. Novik is a co-founder of the Organization for Transformative Works. She lives in New York City with her husband, Charles Ardai, the founder of Hard Case Crime, and their daughter, Evidence, surrounded by an excessive number of purring computers.
Praise For Throne of Jade…
"Temeraire is a dragon for the ages."
–Terry Brooks

"Readers with a penchant for both Patrick O'Brian and Anne McCaffrey may have found their perfect match. Naomi Novik beautifully renders an early-eighteenth-century Europe in which both naval buffs and dragon lovers will be keen to immerse themselves."
–Alan Dean Foster, author of the Pip & Flinx series
Advertisement