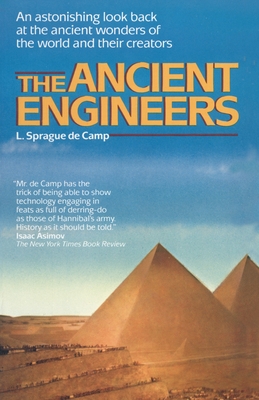 The Ancient Engineers (Paperback)
Ballantine, 9780345482877, 480pp.
Publication Date: January 1, 1995
Description
"Mr. de Camp has the trick of being able to show technology engaging in feats as full of derring-do as those of Hannibal's army. History as it should be told."--Isaac Asimov, The New York Times Book Review

The Pyramids of Giza, the Parthenon of Greece, the Great Wall of China, the Colosseum of Rome. Today, we stand in awe before these wonders of the ancient world. They hold our history and the deepest secrets of our past in their hidden recesses. In The Ancient Engineers, L. Sprague de Camp delves into the heart of the mystery. He introduces us to the master builders who had the vision, the power, and the passion to reach for the clouds and touch the heavens. We share in some of the greatest technological triumphs of all time--triumphs of the human mind, imagination, and spirit.
About the Author
L. Sprague de Camp (1907-2000) was a science-fiction, fantasy, and nonfiction author. His notable works include Lest Darkness Fall, Rogue Queen, Tales of Conan, and Conan the Adventurer.
Advertisement