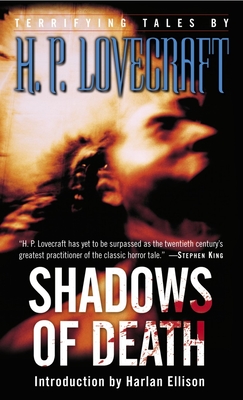 Shadows of Death (Mass Market Paperbound)
Del Rey Books, 9780345483331, 324pp.
Publication Date: October 25, 2005
Description
Descend into the nerve-shattering realm of America's master of horror, H. P. Lovecraft to a dank place where gloomy maelstroms await the unwary, where the unnatural is surpassed only by the unspeakable, and where all pleasure is perverse. Take a chance. . . . All you can lose is your sanity.
The Doom That Came to Sarnath The magnificent city had wealth beyond measure, but no riches could save it from a ghastly day of reckoning.
The Shunned House He vowed to rid the odious structure of the brooding horror that clung to it, but evil would not go gently.
The Dream Quest of Unknown Kadath Desperate to understand his tormenting vision, one man begins a forbidden and nightmarish journey.
The Tomb The old Hyde family crypt held a gruesome attraction for a boy, until he communed with the dead and learned their secrets.
The Shadow Out of Time The quest to understand the devouring force that once possessed a scholar leads a man to the other side of the world, where all will be revealed in one hideous, unholy night.
PLUS ELEVEN OTHER MACABRE TALES OF PURE TERROR.
About the Author
H. P. Lovecraft (1890 1937) lived his life in the moody New England that was the setting for his tales. His writing appeared in some of his era s most famous pulp magazines, but as no book of his work was published in his lifetime, Lovecraft died in relative poverty and obscurity. Since his death he has been recognized as one of the most influential cult horror writers of the twentieth century. His influence on American horror can be detected in the work of Stephen King, Anne Rice, Clive Barker, and many others."
Advertisement