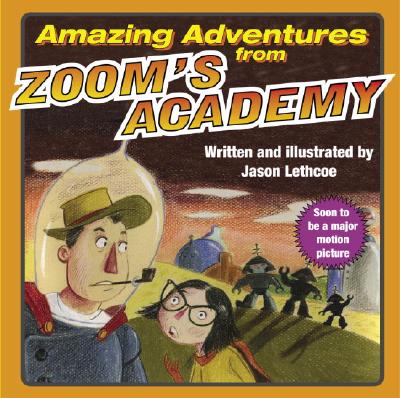 Amazing Adventures from Zoom's Academy (Paperback)
Ballantine Books, 9780345483553, 150pp.
Publication Date: October 25, 2005
* Individual store prices may vary.
or
Not Currently Available for Direct Purchase
Description
ARE YOU READY TO BE TOTALLY FREAKED OUT?
As the most unpopular kid in high school, Summer Jones isn t ready for much of anything, except for teasing from classmates. Then Jasper, her eccentric Dad, makes a shocking disclosure: He's a professor at Zoom's Academy, a school that develops super-powers in select students. Before Summer can say lost his marbles, Jasper gives her a strange ring, which glows the instant Summer slips it on her finger.
Okay, now she's ready to be totally freaked out
So begins Summer's amazing adventures, as she blasts off to an astonishing campus in the clouds. It is a place where rockets run on lime gelatin, shiny brass robots zip around, and caped (soon-to-be-crusading) kids fly the skies and fine tune their special gifts from lightning speed and elastic limbs to telepathy and colossal strength. Can it be true that Summer, a geeky girl with a paralyzing fear of heights, is a budding crime-fighting super hero?
Yet while the faculty of Zoom's Academy tries to discover what sort of super-powers Summer actually possesses, the dark headmaster of Zoom's archrival, Grave's School for the Villainous Arts, plots a hostile take-over, in which one unsuspecting girl will play a vital role in its sinister execution.
About the Author
Jason Lethcoe is the author and illustrator of several books, including the Zoom's Academy series. Prior to writing and illustrating books, Mr. Lethcoe worked for 17 years in the Hollywood animation industry as a storyboard artist for several studios, including Walt Disney Animation Studios and Sony Pictures. He does most of his writing on his 30-foot sail boat called The Moon and lives in California with his wife and his three kids. There are rumors that he is affiliated with a mysterious society of adventurers called the Brotherhood of Thaumaturgic Cartographers, but he refuses to elaborate on his involvement for fear of divulging their secrets.
Advertisement