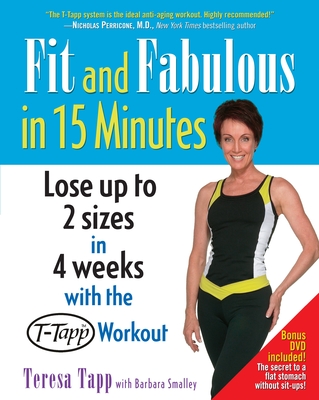 Fit and Fabulous in 15 Minutes [With Bonus DVD] (Paperback)
Ballantine Books, 9780345484048, 275pp.
Publication Date: December 26, 2006
Description
The T-Tapp system is the ideal anti-aging workout. Highly recommended
Nicholas Perricone, M.D., New York Times bestselling author
The most efficient and effective workout you ll ever do
Imagine an exercise program that requires no equipment, no weights, and no bands. There is no jumping or stress to your joints. Yet everyone gets results regardless of fitness level Created by renowned fitness expert Teresa Tapp, the revolutionary T-Tapp Workout reshapes your body while it fires up your metabolism. All you need is four square feet of space and just 15 minutes a day in order to see a dramatic loss of inches.
How does it work? T-Tapp's unique sequence of comprehensive, compound muscle movements works the muscles layer by layer, from the inside out, to cinch, tighten, and tone them and burn fat better. Fit and Fabulous in 15 Minutes is the complete introduction to this amazing program. By doing Teresa Tapp's signature 15-minute workout, or the extended 45-minute workout, you can:
lose a clothing size in just two weeks
flatten your belly without doing a single crunch
develop strength and improve bone density without lifting a single weight
build sleek muscles and improve posture
lower blood pressure and cholesterol the natural way
improve blood-sugar levels in type 2 diabetes
The no-impact workout is safe for those with shoulder, hip, knee, neck, and back concerns, and is also effective for those with conditions such as arthritis, fibromyalgia, lupus, chronic fatigue syndrome, and multiple sclerosis. With T-Tapp you re building a better body inside and out.
Completely illustrated with step-by-step photographs that show how to do the exercises, Fit and Fabulous in 15 Minutes also includes inspiring testimonials and an easy-to-follow food plan. If you want real results real fast tap into the power of T-Tapp
About the Author
TERESA TAPP is an internationally renowned fitness expert who developed T-Tapp, a revolutionary rehabilitative fitness program. She has certified instructors all over the world. Tapp has appeared on local ABC, NBC, CBS, PBS, FOX, and UPN affiliates across the country, and articles on T-Tapp have appeared in numerous publications, including Woman s World, Prevention, Fit, and Parade magazines. She lives in Tampa Bay, Florida. Visit her website at www.t-tapp.com. BARBARA SMALLEY is a freelance writer specializing in women s issues and the co-author of six books. Her articles have appeared in more than fifty national magazines, including Redbook, Cosmopolitan, Parenting, Family Circle, Woman s Day, Elle, and Reader s Digest. For the past eight years, she has been writing primarily for Woman s World magazine. She is a former recipient of the prestigious ATHENA Award, an international honor that recognizes women who selflessly give of their time and talents to help other women reach their goals. She lives in Athens, Georgia. From the Hardcover edition."
Praise For Fit and Fabulous in 15 Minutes [With Bonus DVD]…
The word is out on T-Tapp!

"I lost seven sizes in six months with T-Tapp, and I never–even for a fraction of a second–believed that this would work for me! If I can do it, anyone can."
–Carol Severson, Illinois

"For years, I went to the gym six days a week, two hours a day, but with no success. Then I discovered T-Tapp. After only eight weeks, I had returned to my normal weight, shape, and energy level."
–Emily Richter, California

"After sixty days, I'd lost sixteen and a half inches overall, including five inches off my waist. Not only did I feel better, but friends were commenting that I actually looked taller–probably because my posture had improved."
–Robert Mecham, Utah

"I lost a clothing size in the first two weeks! Over the next four months, I went from a middle-age 40-30-42 figure to a sexy 37-27-37 figure. Now it's easy to maintain a size 6 with just two workouts a week."
–Margie Weiss, Florida

"I started out wearing a size 14 and now I'm fitting comfortably into my size 10s. I can even button the 8s! Thank you for the workout that works!"
–Bekki Johnson, Colorado

"I have type 2 diabetes, but since I started T-Tapping, I've had perfectly normal blood sugar levels. I've also lost twenty-five pounds and over twenty inches!"
–Aimee Dubuisson, Texas

Advertisement