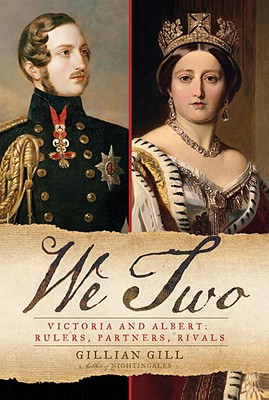 We Two
Victoria and Albert: Rulers, Partners, Rivals
Hardcover

* Individual store prices may vary.
Other Editions of This Title:
Digital Audiobook (5/18/2009)
Paperback (11/30/2009)
Description
It was the most influential marriage of the nineteenth century–and one of history's most enduring love stories. Traditional biographies tell us that Queen Victoria inherited the throne as a naïve teenager, when the British Empire was at the height of its power, and seemed doomed to find failure as a monarch and misery as a woman until she married her German cousin Albert and accepted him as her lord and master. Now renowned chronicler Gillian Gill turns this familiar story on its head, revealing a strong, feisty queen and a brilliant, fragile prince working together to build a family based on support, trust, and fidelity, qualities neither had seen much of as children. The love affair that emerges is far more captivating, complex, and relevant than that depicted in any previous account.

The epic relationship began poorly. The cousins first met as teenagers for a few brief, awkward, chaperoned weeks in 1836. At seventeen, charming rather than beautiful, Victoria already "showed signs of wanting her own way." Albert, the boy who had been groomed for her since birth, was chubby, self-absorbed, and showed no interest in girls, let alone this princess. So when they met again in 1839 as queen and presumed prince-consort-to-be, neither had particularly high hopes. But the queen was delighted to discover a grown man, refined, accomplished, and whiskered. "Albert is beautiful!" Victoria wrote, and she proposed just three days later.

As Gill reveals, Victoria and Albert entered their marriage longing for intimate companionship, yet each was determined to be the ruler. This dynamic would continue through the years–each spouse, headstrong and impassioned, eager to lead the marriage on his or her own terms. For two decades, Victoria and Albert engaged in a very public contest for dominance. Against all odds, the marriage succeeded, but it was always a work in progress. And in the end, it was Albert's early death that set the Queen free to create the myth of her marriage as a peaceful idyll and her husband as Galahad, pure and perfect.

As Gill shows, the marriage of Victoria and Albert was great not because it was perfect but because it was passionate and complicated. Wonderfully nuanced, surprising, often acerbic–and informed by revealing excerpts from the pair's journals and letters–We Two is a revolutionary portrait of a queen and her prince, a fascinating modern perspective on a couple who have become a legend.
Praise For We Two: Victoria and Albert: Rulers, Partners, Rivals…
"Gillian Gill has written a superbly accessible account of the marriage of Queen Victoria and Albert of Saxe-Coburg. She makes us understand that it was a union constantly pulled between two contradictory imperatives: the need for the Queen to be supreme head of state and Albert her subject, and the requirement that the nineteenth-century wife should be her husband's subordinate in every way. Gill grippingly recounts the tensions and negotiations between Victoria and Albert, both in politics and in intimate and domestic life, as they tried to reconcile this contradiction. She is particularly good on the couple's later life and their relationships with their many children. Her book is the story not just of a marriage and a family but also of the way in which Victoria appeared to grant Albert precedence but ultimately came to control the relationship. After Albert's early death Victoria set about creating an enduring legend of her marriage and inevitably emerged as both heroine and victor. Gill skillfully shows exactly how she did it."—Stella Tillyard, author of A Royal Affair and The Aristocrats

"Every marriage is a balancing act. In this absorbing book, Gillian Gill shows how the royal couple counterpoised their partnership—and their passion—for twenty-one years while bearing the weight of the world on their shoulders."—Daniel Mark Epstein, author of The Lincolns: Portrait of a Marriage

"Gillian Gill's double biography, We Two, is intimate and delicious. Gill has a gift for finding the telling details which bring the royal couple to life, and she has created a fascinating study of a woman negotiating her supreme power in a male-dominated society and a traditional marriage. The push and pull between Albert, who is a complicated mixture of rigidity and softness, and Victoria, reluctant mother of nine and natural sovereign, makes a great story."—Susan Quinn, author of Marie Curie: A Life

"This is a more compassionate look into the lives of Victoria and Albert, in which they become people to whom we can relate––the stuffed shirts get sent to the laundry and a much softer fabric is returned!"—Anne Perry, author of the series of Victorian mysteries

"Gill's spirited reconstruction of Queen Victoria's three-act drama of a life—as teen-age ruler, partner to her ambitious consort Prince Albert, and queen in her own right after his death—enjoins us to rethink the meaning of the word "Victorian," too long a synonym for moral stuffiness. Perhaps now, with Gill's timely book, we can revalue this much-maligned term to let it reflect Victoria's courage in managing her long reign at a time when there were few opportunities for women of any rank, let alone for royals. A thought-provoking look at an era starting to grapple with issues that shed light on recent history."—Carolyn Burke, author of Lee Miller, A Life

"What a whale of a wonderful read this is! Queen Victoria and Prince Albert jump forward from these pages in all their full, complex humanity—she, the besotted, emotional wife; and he, the reserved, cool, moralizing spouse. We Two shares a passionate, often frustrating relationship, one fraught with unconscious rivalries. Gillian Gill tells us the full story of a royal marriage that was to have profound effects upon European history—and she does so in a compelling, thoroughly engrossing way."––Maggie Scarf, author of September Songs
Ballantine Books, 9780345484055, 480pp.
Publication Date: May 19, 2009
or
Not Currently Available for Direct Purchase