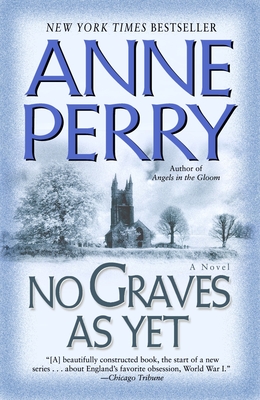 No Graves as Yet (Paperback)
Ballantine Books, 9780345484239, 363pp.
Publication Date: July 26, 2005
Description
Through Anne Perry's magnificent Victorian novels, millions of readers have enjoyed the pleasures and intrigue of a bygone age. Now, with the debut of an extraordinary new series, this New York Times bestselling author sweeps us into the golden summer of 1914, a time of brief enchantment when English men and women basked in the security of wealth and power, even as the last weeks of their privileged world were swiftly passing. Theirs was a peace that led to war.
On a sunny afternoon in late June, Cambridge professor Joseph Reavley is summoned from a student cricket match to learn that his parents have died in an automobile crash. Joseph's brother, Matthew, as officer in the Intelligence Service, reveals that their father had been en route to London to turn over to him a mysterious secret document--allegedly with the power to disgrace England forever and destroy the civilized world. A paper so damning that Joseph and Matthew dared mention it only to their restless younger sister. Now it has vanished. What has happened to this explosive document, if indeed it ever existed? How had it fallen into the hands of their father, a quiet countryman? Not even Matthew, with his Intelligence connections, can answer these questions. And Joseph is soon burdened with a second tragedy: the shocking murder of his most gifted student, beautiful Sebastian Allard, loved and admired by everyone. Or so it appeared. Meanwhile, England's seamless peace is cracking--as the distance between the murder of an Austrian archduke by a Serbian anarchist and the death of a brilliant university student by a bullet to the head of grows shorter by the day. Anne Perry is a sublime master of suspense. In No Graves As Yet, her latest haunting masterpiece, she reminds us that love and hate, cowardice and courage, good and evil are always a part of life, in our own time as well as on the eve of the greatest war the world has ever known. From the Hardcover edition.
About the Author
Anne Perry is the bestselling author of two acclaimed series set in Victorian England. Her William Monk novels include Death of a Stranger, Funeral in Blue, Slaves of Obsession, and The Twisted Root. She also writes the popular novels featuring Thomas and Charlotte Pitt, including Seven Dials, Southampton Row, The Whitechapel Conspiracy, and Half Moon Street. Her short story "Heroes" won an Edgar Award. Anne Perry lives in Scotland. Visit her Web site at www.anneperry.net. From the Hardcover edition.
Praise For No Graves as Yet…
PRAISE FOR ANNE PERRY AND HER VICTORIAN NOVELS

"Intelligently written and historically fascinating."
—The Wall Street Journal

"You can count on a Perry tale to be superior."
—The San Diego Union-Tribune

"[A] master of crime fiction who rarely fails to deliver a strong story and a colorful cast of characters."
—The Baltimore Sun

The Reavley Chronicles
Advertisement