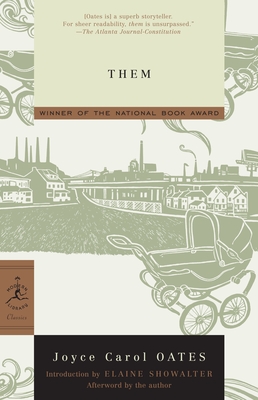 them (The Wonderland Quartet #3) (Paperback)
Modern Library, 9780345484406, 576pp.
Publication Date: September 12, 2006
Other Editions of This Title:
Hardcover (5/2/2000)
Mass Market Paperback (12/1/1984)
* Individual store prices may vary.
Description
"If the phrase 'woman of letters' existed, [Joyce Carol Oates] would be, foremost in this country, entitled to it."—John Updike, The New Yorker

As powerful and relevant today as it was on its initial publication, them chronicles the tumultuous lives of a family living on the edge of ruin in the Detroit slums, from the 1930s to the 1967 race riots. Praised by The Nation for her "potent, life-gripping imagination," Joyce Carol Oates traces the aspirations and struggles of Loretta Wendall, a dreamy young mother who is filled with regret by the age of sixteen, and the subsequent destinies of her children, Maureen and Jules, who must fight to survive in a world of violence and danger.

Winner of the National Book Award, them is an enthralling novel about love, class, race, and the inhumanity of urban life. It is, raves The New York Times, "a superbly accomplished vision."

Them is the third novel in the Wonderland Quartet. The books that complete this acclaimed series, A Garden of Earthly Delights, Expensive People, and Wonderland, are also available from the Modern Library.

[Oates is] a superb storyteller. For sheer readability, them is unsurpassed."—The Atlanta Journal-Constitution 
About the Author
One of the most versatile and accomplished writers of our time, Oates has influenced the American literary landscape perhaps even more than we realize. The New York Times Book Review suggests, "With occasional exceptions (Joyce, Flaubert), we finally care most about novelists like Dickens, George Eliot, Balzac, Tolstoy, Hardy, James, Conrad, Lawrence or Faulkner whose work is copious enough to constitute a 'world,' and though no guarantees can be offered, energy like Joyce Carol Oates' may find an eventual reward."
        
Praise For them (The Wonderland Quartet #3)…
Praise for The Wonderland Quartet, four early novels by Joyce Carol Oates

A Garden of Earthly Delights
Expensive People
them
Wonderland

"Protean and prodigious are surely the words that describe Ms. Oates. From the very beginning, as these impressive and diverse novels make clear, her talents and interests and strengths have never found comfort in restraint. She's sought, instead, to do it all -- to face and brilliantly, inventively transact and give shape to as much of experience as possible, as if by no other means is a useful and persuasive gesture of moral imagination even conceivable. For us readers these are valuable books." -- Richard Ford

"These four novels reveal Oates' powers of observation and invention, her meticulous social documentation joined to her genius for forging unforgettable myths. She is one of the handful of great American novelists of the last hundred years. " -- Edmund White
"This rich, kaleidoscopic suite of novels displays the young Joyce Carol Oates exercising her formidable artistic powers to portray a turbulent twentieth-century America. They offer the reader a singular opportunity to experience some of Oates's best writing and to witness her development, novel by novel, into one of our finest contemporary writers." --Greg Johnson, author of Invisible Writer: A Biography of Joyce Carol Oates
"As a young writer, Joyce Carol Oates published four remarkable novels, A Garden of Earthly Delights (1967), Expensive People (1968), them (1969), and Wonderland (1971). They were all nominated for the National Book Award, and Oates won the award for them in 1970....Reprinting the series in modern paperback editions nearly forty years after their composition allows us a new perspective on their collective meaning and illuminates their place in Oates's overall career...The Wonderland Quartet, written in the "white heat" of youthful imagination and fervor, remains not only relevant but prophetic about the widening social and economic gulf in American society, the self-destructive violence of political extremism, and the terrifying hubris of science and technology. Bringing to life an unforgettable range of men and women, the Wonderland Quartet offers a compelling introduction to a protean and prodigious contemporary artist." -- Elaine Showalter, from her introduction, which appears in all four of these new Modern Library editions

Praise for them
"A superbly accomplished vision."-John Leonard, The New York Times

"That rarity in American fiction, a writer who seems to grow with each new book."-Time Magazine

"A superb storyteller. For sheer readability, Them is unsurpassed."-Atlanta Journal-Constitution

"When Miss Oates' potent, life-gripping imagination and her skill at narrative are conjoined, as they are pre-eminently in Them, she is a prodigious writer."-The Nation

Praise for Joyce Carol Oates
"If the phrase 'woman of letters' existed, she would be, foremost in this country, entitled to it."
–John Updike, The New Yorker

"Oates writes prose of striking directness and simplicity. . . . She invests everything she touches with the qualities of her own voice, which is nervous, fast, febrile and hot as an iron. I'd unhesitatingly say that she is one of the most important living American writers." –Peter Straub, New Statesman

"Oates's novels work best when the action is set off by one terrible mistake. . . . These novels are hypnotically propulsive, written in the key of What the Hell is Going to Happen Next? Oates pairs big ideas with small details in an ideal fictional balancing act, but the nice thing is that you don't really notice. You're too busy rushing on to the next page."
–Claire Dederer, The New York Times

"Joyce Carol Oates is a superb writer with a perfect eye and ear. She has the uncanny ability to give us a cinemascopic vision of her America."
–Charles Shapiro, National Review

"Oates is unlike many women writers in her feeling for the pressure, mass, density of violent American experience not known to the professional middle class. . . . [Her] characters seem to move through a world wholly physical in its detail, yet they touch us and frighten us like disembodied souls calling to us from another world."
–Alfred Kazin, Harper's

"To read Oates is to cross an emotional minefield, to be stunned to the soul by multiple explosions, but to emerge to safety again with the skull ringing with shocked revelation and clarity. . . . [Oates's] lack of presumption, her superlative middle-American scope and focus (like a Dos Passos, a Zola or a Dostoevski), and her unerring dedication to curing the absence of empathy that pervades so much of our contemporary writing all combine to make her one of the top writers truly puzzling out the complexity of the American experience today."
– S. K. Oberbeck, – The Washington Post Book World

"Perhaps the most significant novelist to have emerged in the United States in the last decade
. . . Like the most important modern writers–Joyce, Proust, Mann–she has an absolute identification with her material: the spirit of a society at a crucial point in its history."
–Newsweek