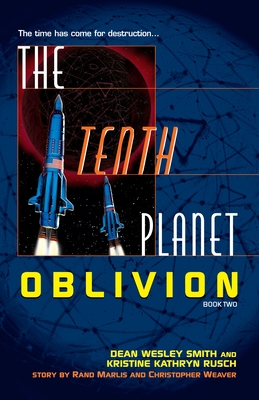 The Tenth Planet: Oblivion: Book 2 (Paperback)
Oblivion: Book 2
Del Rey Books, 9780345484949, 272pp.
Publication Date: February 1, 2000
Description
2017: BACK FROM THE SUN For aeons, Earth has been ravaged by so-called natural disasters. Now we know the primary cause: overharvesting of our limited resources--not by humans, but by the residents of our solar system's tenth planet. Since before the birth of humanity, every two thousand years, this dark planet has plundered our world. But in 2017, Earth fought back. Now thousands of aliens face starvation. To survive, they must harvest Earth when their orbit brings them back from behind the sun. But the humans are not waiting for Earth to become as parched and barren as Mars. Every nuclear weapon has been aimed at the Tenth Planet. Their ultimate goal--to blow the Tenth Planet to oblivion. In part two of the Tenth Planet saga, cutting-edge science and high drama combine in an adventure that questions humanity's history, our place in the universe . . . and our very right to exist. From the Paperback edition.
About the Author
Dean Wesley Smith was a founder of the well-respected small press Pulphouse. He has written a number of novels--both his own and as tie-in projects--including Laying the Music to Rest and X-Men: The Jewels of Cyttorak. Kristine Kathryn Rusch is the Hugo and World Fantasy Award-winning former editor of The Magazine of Fantasy and Science Fiction. She turned to writing full time two years ago. She, too, has written a number of original and tie-in novels, including the Fey series and Star Wars: The New Rebellion. From the Paperback edition.
Advertisement