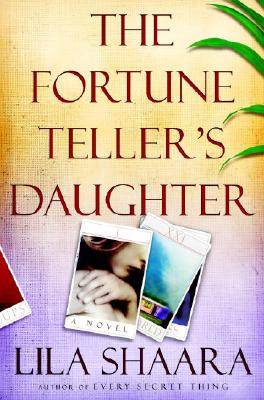 The Fortune Teller's Daughter
Hardcover

* Individual store prices may vary.
Description
One card said Death, another pictured a lightning-struck tower. These dreamlike images and their names meant nothing to him, but she knew what they meant: violence, an uncertain future, danger.

Harry Sterling has lost much in recent years: his brother, his marriage, his job, his self-esteem. A teaching post at a small college in northern Florida has given him an opportunity to reevaluate his life and reconnect with his teenage son. But Harry is above all a reporter, so when he stumbles upon a rumor about physicist Charles Ziegart–world-famous for a breakthrough discovery in electrical conductivity–he feels compelled to investigate. Could it be true that the highly respected scientist stole the credit for the "Ziegart Effect" from one of his students?

Harry's pursuit of the story leads him into extremely unlikely and colorful company–the notorious Purple Lady, the fortune teller Madame Dupree, and Miss Baby Thorpe. He also meets the intriguing if peculiar Maggie Roth, a short-order cook with an affinity for the woods, who has suffered terrible losses of her own.

As Harry uncovers more of Ziegart's secrets, he makes shocking connections between the ivory towers of academic power and the backwoods and sinkholes of north Florida. There are profound reasons why these secrets have been buried for so many years. Each startling new revelation increases the danger to Harry and those he cares about–until at last his investigation exacts a horrifying price.

Blending absorbing drama with powerful suspense, The Fortune Teller's Daughter is a smart, moving, compellingly imaginative tale. With luminous imagery and fluid prose, Lila Shaara weaves a seductive tale of deep secrets, intellectual intrigue, and electric emotion.
Praise For The Fortune Teller's Daughter…
Advance praise for The Fortune Teller's Daughter

"The Fortune Teller's Daughter is fresh and authentic, the plot complex and full of surprises. This compelling suspense novel has it all–mystery, romance, fascinating characters, and some very creepy moments."
–Nancy Thayer, bestselling author of Moon Shell Beach

"Gripping . . . The narrative is wonderfully suspenseful. . . . Fortune favors this entertaining read."
–Kirkus Reviews

Praise for Every Secret Thing

"Moving . . . the debut of an utterly original voice."
–Carol Goodman, bestselling author of The Night Villa

"Compelling . . . keeps you turning the pages."
–Pittsburgh Post-Gazette
Ballantine Books, 9780345485670, 436pp.
Publication Date: December 30, 2008
About the Author
Lila Shaara is the author of "Every Secret Thing." She lives in western Pennsylvania with her family.