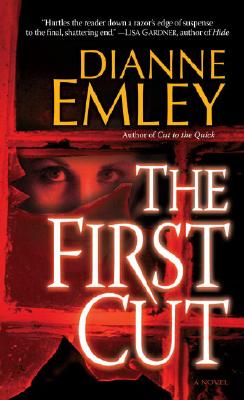 The First Cut (Mass Market)
A Novel (Nan Vining #1)
Ballantine Books, 9780345486189, 416pp.
Publication Date: December 30, 2008
* Individual store prices may vary.
Description
For two minutes she was dead.

The assailant was vicious, the attack brutal—and it left her lifeless . . . until her pulse fluttered and she jolted awake. Now, a year later, detective Nan Vining is still questioning her strength, her safety, even her sanity: Can she ever again be the cop—and mother—she was before? And will her attacker someday return to finish the job, before she can track him down herself?

Shaky but determined, Vining rejoins the Pasadena PD, only to confront a murder case that strikes close to home: A slain policewoman has been discovered beneath the Colorado Street Bridge, her body bruised, her throat slit. Even as Vining struggles to recover her standing within the department, she can't help but feel profoundly drawn to the murdered officer, Frankie Lynde—and she is deeply troubled by the baffling otherworldly visions that haunt her waking hours. Are these mere fever dreams? Or could they be, as Vining's daughter insists, messages from beyond the grave?

Digging deeper into Lynde's past, Vining discovers clues that set her on the twisted trail of a killer as ruthless as he is depraved—a predator whose methods and madness recall those of her own attacker. Amid a rising tide of danger, she pushes herself to bold new limits, desperate to avenge the murder of a fellow police officer . . . and to reclaim the life she lost a year ago.

Packed with suspense and action, this pulse-pounding novel will hold you breathless from the first cut to the last.

Praise for The First Cut
 
"The First Cut should immediately establish Dianne Emley in the front ranks of thriller writers. . . . A great read."—Michael Connelly
 
"Gritty, intense, and hard-edged, The First Cut is first-rate."—Tess Gerritsen
 
"Action-packed, with plenty of suspense and enough twists and turns to keep the reader guessing long into the night."—Lisa Jackson
 
"An edge-of-your-seat plot . . . nicely developed characters and genuine suspense elevate this impressive crime debut."—Kirkus Reviews
About the Author
Dianne Emley is the bestselling author of The Night Visitor and the Nan Vining series: The First Cut, Cut to the Quick, The Deepest Cut, Love Kills, and Killing Secrets. A Los Angeles native, she lives in the Central California wine country with her husband, Charlie.
Praise For The First Cut: A Novel (Nan Vining #1)…
"The First Cut should immediately establish Dianne Emley in the front ranks of thriller writers. . . . A great read."—Michael Connelly

"Gritty, intense, and hard-edged, The First Cut is first-rate."—Tess Gerritsen

"Action-packed, with plenty of suspense and enough twists and turns to keep the reader guessing long into the night."—Lisa Jackson

"An edge-of-your-seat plot . . . nicely developed characters and genuine suspense elevate this impressive crime debut."—Kirkus Reviews