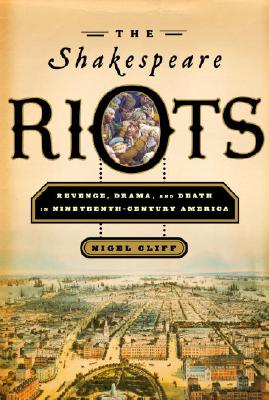 The Shakespeare Riots
Revenge, Drama, and Death in Nineteenth-Century America
Hardcover

* Individual store prices may vary.
Description
One of the bloodiest incidents in New York's history, the so-called Astor Place Riot of May 10, 1849, was ignited by a long-simmering grudge match between the two leading Shakespearean actors of the age. Despite its unlikely origins, though, there was nothing remotely quaint about this pivotal moment in history–the unprecedented shooting by American soldiers of dozens of their fellow citizens, leading directly to the arming of American police forces.

The Shakespeare Riots recounts the story of this momentous night, its two larger-than-life protagonists, and the myriad political and cultural currents that fueled the violence. In an engrossing narrative that moves at a breakneck pace from the American frontier to the Mississippi River, to the posh theaters of London, to the hangouts of the most notorious street gangs of the day, Nigel Cliff weaves a spellbinding saga of soaring passions, huge egos, and venal corruption.

Cliff charts the course of this tragedy from its beginnings as a somewhat comical contretemps between Englishman William Charles Macready, the haughty lion of the London stage, and Edwin Forrest, the first great American star and a popular hero to millions. Equally celebrated, and equally self-centered, the two were once friends, then adversaries. Exploiting this rivalry, "nativist" agitators organized mobs of bullyboys to flex their muscle by striking a blow against the foppish Macready and the Old World's cultural hegemony that he represented.

The moment Macready took the stage in New York, his adversaries sprang into action, first by throwing insults, then rotten eggs, then chairs. When he dared show his face again, an estimated twenty thousand packed the streets around the theater. As cobblestones from outside rained down on the audience, National Guard troops were called in to quell the riot. Finding themselves outmatched, the Guardsmen discharged their weapons at the crowd, with horrific results. When the smoke cleared, as many as thirty people lay dead, with scores more wounded.

The Shakespeare Riots is social and cultural history of the highest order. In this wondrous saga Nigel Cliff immerses readers in the bustle of mid-nineteenth-century New York, re-creating the celebrity demimonde of the day and capturing all the high drama of a violent night that robbed a nation of its innocence.
Random House, 9780345486943, 336pp.
Publication Date: April 17, 2007
About the Author
Nigel Cliff was educated at Oxford University, where he was awarded a double First in English and the Beddington Prize for English literature. He is a former theater and film critic for the" London Times" and a contributor to "The Economist." This is his first book.
or
Not Currently Available for Direct Purchase