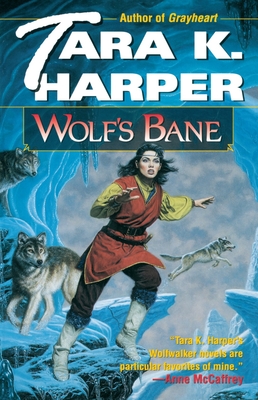 Wolf's Bane (Paperback)
Ballantine, 9780345487186, 352pp.
Publication Date: September 1, 1997
Description
TO TOUCH THE STARS
She was Dion the Wolfwalker, and through her telepathic bond with the Gray Ones, she could hear the packsong and run with the wolves. And now, as fate ripped from her almost everything she held dear, her wolfbond became her only reason to live, for she could notdeny the Call of the wolves to help them. Driven by the need of the Gray Ones, she would seek out and confront the mysterious beings of the sky--the ones who had once brought death to the world. In eight hundred years, no human had survived that contact. But Dion could not avoid it.Only by facing the aliens could she save herself . . . and the future of the wolves
From the Paperback edition.
About the Author
Friends of Tara K. Harper say that she is opinionated, blunt, far too efficient, unexpectedly patient, and kind. About half her friends think she is a thrill seeker. The rest seem to think she alternates between thinking, dreaming, and working in a passionate frenzy, but they like her cooking and even enjoy the music when she stops playing the same piece three days in a row. Her husband agrees with her friends--on all those points--but he married her, so he has to be more politic about it. Ms. Harper graduated from the University of Oregon, then went into high-tech, where she has worked for R&D test-and-measurement companies ever since. Active in community service, she teaches creative writing for alternative schools, trains youth in wilderness skills, and serves on the board of directors for a youth treatment center. Ms. Harper is a member of the author's guild. A martial artist for many years, Ms. Harper also hikes, kayaks, sails, and is active in outdoor sports. She admits to having been caught in undertows, tidal waves, bogs, quicksand, and river bottom runs. She has slept with bees in her ears and deer at her feet; she has been bear-bashed too many times to count. She paints in watercolors and oils, sculpts in stone, plays the violin, composes music, and still claims she wants to be a stuntperson. From the Paperback edition.
Advertisement