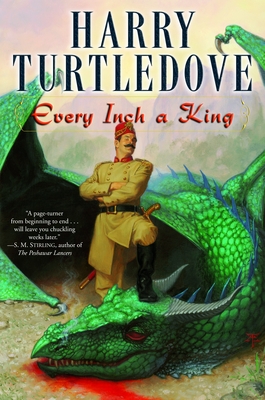 Every Inch a King (Paperback)
Del Rey Books, 9780345487360, 297pp.
Publication Date: February 27, 2007
* Individual store prices may vary.
or
Not Currently Available for Direct Purchase
Description
Otto of Schlepsig is risking his neck as an acrobat in a third-rate circus in the middle of nowhere when news arrives that the land of Shqiperi has invited Prince Halim Eddin to become its new king. Otto doesn t know the prince from Adam, but he does happen to look just like him a coincidence that inspires Otto with a mad plan to assume Halim's identity and rule in his stead. True, Shqiperi is an uncivilized backwater, but even in uncivilized backwaters kings live better than acrobats. Plus, kingship in Shqiperi comes with a harem. Rank, as they say, has its privileges.
With his friend Max, a sword-swallowing giant whose chronic cough makes every performance a potential tonsillectomy, Otto embarks on a rollicking journey filled with feats of derring-do, wondrous magic, and beautiful maidens well, beautiful women. And that's before he enters a royal world that is truly fantastical.
About the Author
Harry Turtledoveis the award-winning author of the alternate-history worksThe Man with the Iron Heart, The Guns of the South, andHow Few Remain(winner of the Sidewise Award for Best Novel); the War That Came Early novels: Hitler s War, West and East, The Big Switch, Coup d Etat, andTwo Fronts;the Worldwar saga: In the Balance, Tilting the Balance, Upsetting the Balance, andStriking the Balance;the Colonization books: Second Contact, Down to Earth, andAftershocks;the Great War epics: American Front, Walk in Hell, andBreakthroughs;the American Empire novels: Blood & Iron, The Center Cannot Hold, andVictorious Opposition;and the Settling Accounts series: Return Engagement, Drive to the East, The Grapple, andIn at the Death. Turtledove is married to fellow novelist Laura Frankos. They have three daughters: Alison, Rachel, and Rebecca."
Praise For Every Inch a King…
"Turtledove is a master at weaving details of ordinary life into a much bigger canvas to produce a world that so easily could have been our own."
–Tulsa World, on Blood and Iron

"Turtledove manages the difficult feat of telling a story that is consistently funny–and wistful, exciting, tragic and swashbuckling at the same time. The characters are intensely human and the setting marvelously Ruritanian, down to the smallest impeccable detail conveyed with a master's economical brushstroke."
–S. M. Stirling
Advertisement