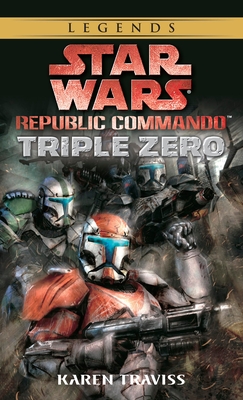 Triple Zero
Star Wars Legends (Republic Commando) (Star Wars: Republic Commando - Legends #2)
Mass Market

* Individual store prices may vary.
Description
Following the eruption of the bloody Clone Wars at the battle of Geonosis, both sides remain deadlocked in a stalemate that can be broken only by elite warrior teams like Omega Squad, clone commandos with terrifying combat skills and a lethal arsenal. . . .

For Omega Squad, deployed deep behind enemy lines, it's the same old special ops grind: sabotage, espionage, ambush, and assassination. But when Omega Squad is rushed to Coruscant, the war's most dangerous new hotspot, the commandos discover they're not the only ones penetrating the heart of the enemy.

A surge in Separatist attacks has been traced to a network of Sep terror cells in the Republic's capital, masterminded by a mole in Command Headquarters. To identify and destroy a Separatist spy and terror network in a city full of civilians will require special talents and skills. Not even the leadership of Jedi generals, along with the assistance of Delta squad and a certain notorious ARC trooper, can even the odds against the Republic Commandos. And while success may not bring victory in the Clone Wars, failure means certain defeat.

Also includes the bonus story Omega Squad: Targets by Karen Traviss!
Random House Worlds, 9780345490094, 448pp.
Publication Date: February 28, 2006
About the Author
Karen Traviss is the author of Star Wars: Republic Commando: Hard Contact, Crossing the Line, and City of Pearl. A former defense correspondent and TV and newspaper journalist, Traviss has also worked as a police press officer, an advertising copywriter, and a journalism lecturer. She has served in both the Royal Naval Auxiliary Service and the Territorial Army. Since her graduation from the Clarion East class of 2000, her short stories have appeared in Asimov's, Realms of Fantasy, and On Spec. She lives in Devizes, England.