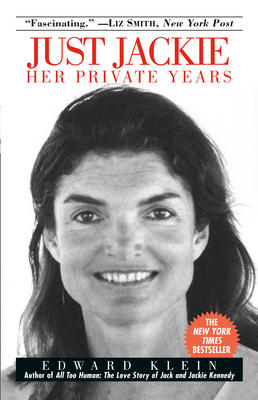 Just Jackie (Paperback)
Her Private Years
Ballantine Books, 9780345490322, 432pp.
Publication Date: October 5, 1999
Other Editions of This Title:
Mass Market Paperback (10/1/1999)
* Individual store prices may vary.
Description
She was perhaps the most famous, most scrutinized, most talked about woman of our century. From the moment Jacqueline Kennedy stepped into the White House, she inspired a generation of Americans and changed the face of a nation. But underneath the glitter and the hype, just who was Jackie?

Now, in this carefully detailed chronicle, Edward Klein, the former editor in chief of The New York Times Magazine, bestselling author of All Too Human: The Love Story of Jack and Jackie Kennedy, and friend of Jacqueline Kennedy Onassis for many years, tells the story of Jackie's best years as it has never been told before, shedding an entire new light on her enduring legacy.

Edward Klein has amassed a wealth of exclusive information from private documents and correspondence, FBI files, and hundreds of interviews with Jackie's friends, the associates of her second husband, Greek shipping tycoon Aristotle Onassis, and her longtime lover, the mysterious diamond merchant Maurice Templesman. In this extraordinary, myth-shattering book, many people break their silence for the first time, answering dozens of provocative questions:

¸  Why did Jackie marry Onassis? Was it only for the money?
¸  How did she react when Onassis resumed his affair with Maria Callas?
¸  What was the real reason their marriage fell apart?

¸  When Jackie returned to New York, how did she rebuild her future on a tarnished and clouded past?
¸  When did Maurice Templesman enter her life, and what role did he play in helping Jackie build her fortune?
¸  How did Jackie spend her time during those very private New York years?

Much more than a portrait of a famous celebrity, Edward Klein's work captures the essence of a captivating woman whose passion for wealth was matched only by her deep need for privacy. In Just Jackie, Klein reveals for the first time how Jacqueline Kennedy Onassis finally found the love and contentment she was searching for all her life.
About the Author
Edward Klein is a well-known writer with a distinguished career in American journalism. He is the author of the New York Times bestseller All Too Human: The Love Story of Jack and Jackie Kennedy. He covered John F. Kennedy's 1960 presidential campaign, served as a foreign correspondent in Asia, and was foreign editor of Newsweek. During his eleven years as editor in chief of The New York Times Magazine, it won the first Pulitzer Prize in its history. His articles have appeared in New York and Parade, and he contributes regularly to Vanity Fair. He is also the author of the novel The Parachutists. He lives with his wife, Dolores Barrett, in New York City and Bridgehampton, Long Island.
Praise For Just Jackie: Her Private Years…
"Fascinating."
--LIZ SMITH
   New York Post

"REVEAL[S] FASCINATING TIDBITS THAT MAY HELP SET THE RECORD STRAIGHT ABOUT ONE OF THE 20TH CENTURY'S MOST FASCINATING WOMEN."
--Houston Chronicle

"STARTLING AND TERRIFIC . . . [KLEIN] CLEARLY WAS ABLE TO TAP SOME OF THOSE WHO WERE IN HER CLOSEST CIRCLE."
--Minneapolis Star Tribune