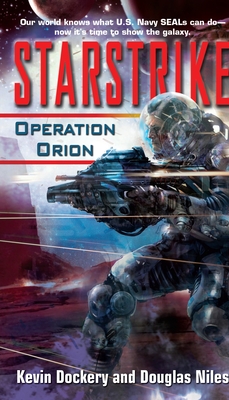 Operation Orion (Mass Market Paperbound)
Del Rey Books, 9780345490421, 280pp.
Publication Date: March 25, 2008
* Individual store prices may vary.
or
Not Currently Available for Direct Purchase
Description
SEALS-America's best just got better.

On the heels of a bloody first contact comes Earth's most important diplomatic mission in history: a summit meeting with the three alien empires vying for control of the galaxy. Assurance that Earth's first extraterrestrial ambassadors aboard the spaceship Pangaea will be safe means little to Lieutenant Thomas "Stonewall" Jackson. After all, a job's a job. As escorts on the voyage, Jackson and his sixteen-man team of new-breed Navy SEALS (Sea, Air, Land, and Space) must be neither seen nor heard. Unless, of course, the op hits the fan.
While Jackson and his team respond to a distress call from an allied fleet, the Pangaea, with all its diplomatic passengers, goes missing, forcing the SEALS to follow the trail to an ice moon at the edge of the galaxy, a harsh environment crawling with crack commandos and hostile enemies. But for these warriors with their outrageous firepower, what seems an impossible quest is just another day in deep space.
About the Author
Kevin Dockery is a noted military historian and the author of many books, including Future Weapons, Navy SEALs: The Complete History, and One Perfect Op: Navy SEAL Special Warfare Teams. He served in the President's Guard under Presidents Richard Nixon and Gerald Ford, and spent time in Iraq and Kuwait during Desert Storm as, as he puts it, a "corporate mercenary." He lives in Ohio. Douglas Niles has written more than thirty-five novels, including the WWII alternate-history thrillers MacArthur's War: A Novel of the Invasion of Japan, Fox on the Rhine, and Fox at the Front (all co-authored with Michael Dobson). The latter two novels were both Main Selections of the Military Book Club and Featured Selections of the Science Fiction Book Club. He lives in Delavan, Wisconsin.
Advertisement