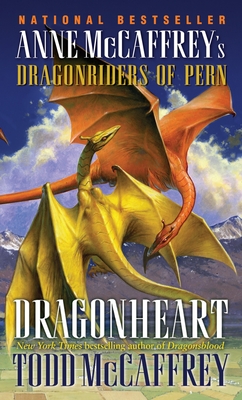 Dragonheart
Anne McCaffrey's Dragonriders of Pern
Mass Market

* Individual store prices may vary.
Other Editions of This Title:
Mass Market (6/27/2006)
Paperback (12/1/2011)
Hardcover (1/1/2005)
Hardcover (11/11/2008)
MP3 CD (7/27/2010)
MP3 CD (10/28/2008)
Description
The specter of sickness looms over the Weyrs of Pern, felling fire-lizards and threatening their dragon cousins, Pern's sole defense against the deadly phenomenon that is Thread. Fiona, the young rider of queen dragon Talenth, is about to assume the duties of a Weyrwoman when word spreads that dragons have begun succumbing to the new contagion. As more dragons sicken and die, Weyrleader B'Nik and queen rider Lorana comb Fort Weyr's archives in a desperate search for clues from the past that may hold the solution to the plague. But could the past itself prove the pathway to salvation for Pern's imperiled dragons? Guided by a mysterious ally from a wholly unexpected place, and trusting in the dragon gift for transcending time, Fiona will join a risky expedition with far-reaching consequences for both Pern's future and her personal destiny.
Praise For Dragonheart: Anne McCaffrey's Dragonriders of Pern…
"The torch has been passed and burns more brightly than ever in this latest chapter of the venerable Pern saga, the first of what one hopes will be many solo efforts by the son of series creator Anne McCaffrey. . . . This stand-alone tale fits beautifully into the existing history and style of earlier books while still breaking new ground."—Publishers Weekly, starred review

"Todd McCaffrey does something I didn't think anyone could do: he writes Anne McCaffrey's Pern. . . . This is Pern, in the hands of a new master-grade harper, carefully trained in the old traditions, but scoring his own ballads. May the saga continue!" —David Weber, author of By Schism Rent Asunder

"A dramatic, thoroughly captivating tale, steeped in the lore and well-drawn characterizations of the people and the dragons for which the Pern novels are prized. Fans old and new will be delighted."—Booklist

"Todd McCaffrey has inherited his mother's storytelling ability. His dragons and fire-lizards, his harpers in Harper's Hall, carry on the great traditions–and add much to them. Huzzah, Todd! You have learned wisdom indeed."—Jane Yolen, author of Briar Rose

"Highly recommended . . . strong storytelling and fully developed human and dragon characters."—Library Journal, starred review

"[A] compelling read."—SF Crowsnest

"Todd McCaffrey has hit his stride with Dragonheart, giving fans an entertaining continuation of the hugely popular saga."—BookLoons
Del Rey, 9780345491152, 544pp.
Publication Date: October 27, 2009
About the Author
Todd McCaffrey is the bestselling author of the Pern novel Dragonsblood, and the co-author, with his mother, Anne McCaffrey, of Dragon's Kin, Dragon's Fire, and Dragon Harper. A computer engineer, he currently lives in Los Angeles. Having grown up in Ireland with the epic of the Dragonriders of Pern,® he is bursting with ideas for new stories of that world, its people, and its dragons.