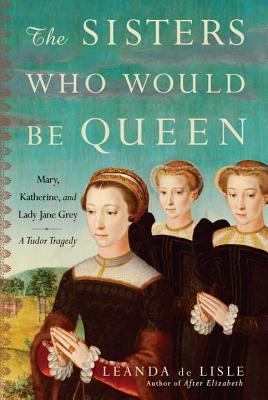 The Sisters Who Would Be Queen (Hardcover)
Mary, Katherine, and Lady Jane Grey: A Tudor Tragedy
Ballantine Books, 9780345491350, 384pp.
Publication Date: October 13, 2009
* Individual store prices may vary.
Description
NEW YORK TIMES BESTSELLER • "Leanda de Lisle brings the story of nine days' queen Lady Jane Grey and her forgotten sisters, the rivals of Elizabeth I, to vivid life in her fascinating biography."—Philippa Gregory

Mary, Katherine, and Jane Grey–sisters whose mere existence nearly toppled a kingdom and altered a nation's destiny–are the captivating subjects of Leanda de Lisle's new book. The Sisters Who Would Be Queen breathes fresh life into these three young women, who were victimized in the notoriously vicious Tudor power struggle and whose heirs would otherwise probably be ruling England today.

Born into aristocracy, the Grey sisters were the great-granddaughters of Henry VII, grandnieces to Henry VIII, legitimate successors to the English throne, and rivals to Henry VIII's daughters, Mary and Elizabeth. Lady Jane, the eldest, was thrust center stage by greedy men and uncompromising religious politics when she briefly succeeded Henry's son, the young Edward I. Dubbed "the Nine Days Queen" after her short, tragic reign from the Tower of London, Jane has over the centuries earned a special place in the affections of the English people as a "queen with a public heart." But as de Lisle reveals, Jane was actually more rebel than victim, more leader than pawn, and Mary and Katherine Grey found that they would have to tread carefully in order to avoid sharing their elder sister's violent fate.

Navigating the politics of the Tudor court after Jane' s death was a precarious challenge. Katherine Grey, who sought to live a stable life, earned the trust of Mary I, only to risk her future with a love marriage that threatened Queen Elizabeth's throne. Mary Grey, considered too petite and plain to be significant, looked for her own escape from the burden of her royal blood–an impossible task after she followed her heart and also incurred the queen's envy, fear, and wrath.

Exploding the many myths of Lady Jane Grey's life, unearthing the details of Katherine's and Mary's dramatic stories, and casting new light on Elizabeth's reign, Leanda de Lisle gives voice and resonance to the lives of the Greys and offers perspective on their place in history and on a time when a royal marriage could gain a woman a kingdom or cost her everything.
About the Author
Leanda de Lisle is the author of After Elizabeth. She was educated at Somerville College, Oxford, where she earned a master of arts degree in modern history. A successful journalist and broadcaster, she has been a columnist for The Spectator, The Guardian, Country Life, and the Daily Express, as well as writing for The Times, the Daily Mail, the New Statesman, and The Sunday Telegraph. She lives in Leicestershire with her husband and three children.
Praise For The Sisters Who Would Be Queen: Mary, Katherine, and Lady Jane Grey: A Tudor Tragedy…
"Leanda de Lisle brings the story of nine days' queen Lady Jane Grey and her forgotten sisters, the rivals of Elizabeth I, to vivid life in her fascinating biography."—Philippa Gregory
or
Not Currently Available for Direct Purchase