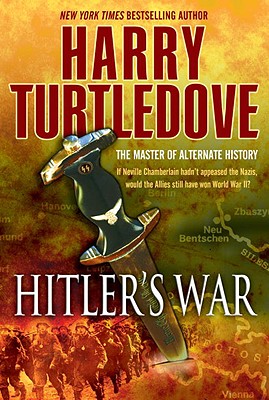 Hitler's War (The War That Came Early, Book One) (Hardcover)
Del Rey, 9780345491824, 512pp.
Publication Date: August 4, 2009
* Individual store prices may vary.
Description
A stroke of the pen and history is changed. In 1938, British Prime Minister Neville Chamberlain, determined to avoid war at any cost, signed the Munich Accord, ceding part of Czechoslovakia to Hitler. But the following spring, Hitler snatched the rest of that country and pushed beyond its borders. World War II had begun, and England, after a fatal act of appeasement, was fighting a war for which it was not prepared.

Now, in this thrilling, provocative, and fascinating alternate history by Harry Turtledove, another scenario is played out: What if Chamberlain had not signed the accord? What if Hitler had acted rashly, before his army was ready–would such impatience have helped him or doomed him faster? Here is an action-packed, blow-by-blow chronicle of the war that might have been–and the repercussions that might have echoed through history–had Hitler reached too far, too soon, and too fast.

Turtledove uses dozens of points of view to tell this story: from American marines serving in Japanese-occupied China to members of a Jewish German family with a proud history of war service to their nation, from ragtag volunteers fighting in the Abraham Lincoln Battalion in Spain to an American woman desperately trying to escape Nazi-occupied territory–and witnessing the war from within the belly of the beast.

A novel that reveals the human face of war while simultaneously riding the twists and turns that make up the great acts of history, Hitler's War is the beginning of an exciting new alternate history saga. Here is a tale of powerful leaders and ordinary people, of spies, soldiers, and traitors, of the shifting alliances that draw some together while tearing others apart. At once authoritative, brilliantly imaginative, and hugely entertaining, Hitler's War captures the beginning of a very different World War II–with a very different fate for our world today.
About the Author
Harry Turtledove is the award-winning author of the alternate-history works The Man with the Iron Heart; The Guns of the South; How Few Remain (winner of the Sidewise Award for Best Novel); the Worldwar saga: In the Balance, Tilting the Balance, Upsetting the Balance, and Striking the Balance; the Colonization books: Second Contact, Down to Earth, and Aftershocks; the Great War epics: American Front, Walk in Hell, and Breakthroughs; the American Empire""novels: Blood & Iron, The Center Cannot Hold, and Victorious Opposition; and the Settling Accounts series: Return Engagement, Drive to the East, The Grapple, and In at the Death. Turtledove is married to fellow novelist Laura Frankos. They have three daughters: Alison, Rachel, and Rebecca.
Praise For Hitler's War (The War That Came Early, Book One)…
Praise for Harry Turtledove's previous works:

"A magisterial saga of an alternate America. . . . A profoundly thoughtful masterpiece of alternate history."
—Booklist, on Man with the Iron Heart

"Turtledove's latest proves that the third time is the charm."
—Publishers Weekly, on The Grapple

"A fascinating and enthralling work that will grab and keep reader interest."
—SFRevu.com, on The Grapple

"Turtledove is the standard bearer for alternate history."
—USA Today
or
Not Currently Available for Direct Purchase