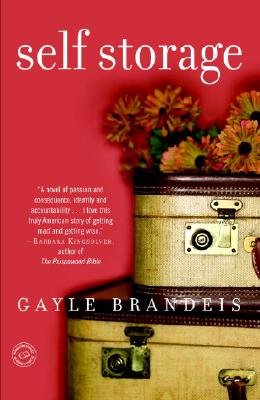 Self Storage
A Novel
Paperback

* Individual store prices may vary.
Description
Flan Parker has always had an inquisitive mind, searching for what's hidden below the surface and behind the door. Her curious nature and enthusiastic probing have translated into a thriving resale business in the university housing complex where she lives with her husband and two young children. Flan's venture helps pay the bills while her husband works on his dissertation, work that lately seems to involve more loafing on the sofa watching soap operas than reading or writing. The secret of her enterprising success: unique and everyday treasures bought from the auctions of forgotten and abandoned storage units.

When Flan secures the winning bid on a box filled only with an address and a note bearing the word "yes," she sets out to discover the source of this mysterious message and its meaning. Armed with a well-worn copy of Walt Whitman's Leaves of Grass that she turns to for guidance and solace, Flan becomes determined to find the "yes" in her own life. This search inward only strengthens her desire to unearth the hidden stories of those around her–in particular, her burqa-clad Afghan neighbor. Flan's interest in this intriguing and secretive woman, however, comes at a formidable price for Flan and her family.

Set during the year following the September 11 attacks, Self Storage explores the raw insecurities of a changed society. With lush writing, great humor, and a genuine heart, Gayle Brandeis takes a peek into the souls of a woman and a community–and reveals that it is not our differences that drive us apart but our willful concealment of the qualities that connect us.
Praise For Self Storage: A Novel…
Advance praise for Self Storage

"A novel of passion and consequence, identity and accountability. I love the narrator, her children, her wild ride, and this truly American story of getting mad and getting wise."
–Barbara Kingsolver

"If you doubt that a deadly serious thread–also somehow all but laugh-out-loud funny–can connect the pillage of metal storage units, the fierce devotion of family, the rape of human sensibility, and the pursuit of art, read Self Storage by Gayle Brandeis. Or better yet, just take the hand of its greathearted and deeply bewildered heroine, Flan, and hang on for the ride."
–Jacquelyn Mitchard, author of Cage of Stars

"The personal and the political collide in Gayle Brandeis's complex and witty new Self Storage. [The] novel illuminates the way we define our loved ones, our neighbors, and ourselves."
–Amanda Eyre Ward, author of How to be Lost

"Gayle Brandeis's marvelous new novel is a rare thing: a story of love, marriage, and friendship that stirs our most tender emotions without manipulation or bathos."
–Ayelet Waldman, author of Love and Other Impossible Pursuits

"Beautifully written and warmed with wit, this is a bold, brave meditation on both the family and the whole family of man."
–Caroline Leavitt, author of Girls in Trouble

"Deftly plotted and engagingly told, Gayle Brandeis's new novel is a suspenseful, thought-provoking, and inspiring exploration of what it means to be a sensitive and thoughtful human being living in George W. Bush's America."
–Adam Langer, author of Crossing California
Ballantine Books, 9780345492616, 304pp.
Publication Date: February 12, 2008
About the Author
Gayle Brandeis is the author of the novel, The Book of Dead Birds, which won Barbara Kingsolver's Bellwether Prize for Fiction in Support of a Literature of Social Change, and Fruitflesh: Seeds of Inspiration for Women Who Write. She lives in Riverside, California, with her husband and two children.
or
Not Currently Available for Direct Purchase