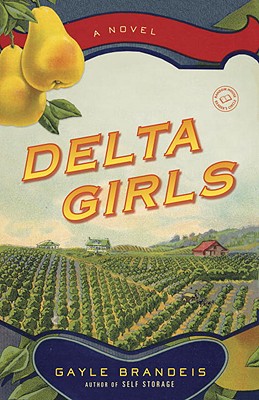 Delta Girls (Paperback)
A Novel
Ballantine Books, 9780345492623, 336pp.
Publication Date: June 22, 2010
* Individual store prices may vary.
Description
The disparate lives of two women—a single mother working hard to make ends meet and a young figure skater at the top of her game—entwine in an unforgettable novel of warmth, depth, and wisdom.
 
Izzy and her daughter, Quinn, have been on the move for all of Quinn's nine years. Izzy works the fields as a fruit picker, following the produce north and south through the growing season. When they reach a struggling pear orchard in the Sacramento River Delta, Izzy intends it to be just another way station in their nomadic lives. But the orchard and its kindly owners capture Quinn's heart, and Izzy briefly forgets that she's running from a past that still haunts her—until a strange incident brings national media attention to the Delta. 

Seemingly a world away, Karen is a rising young star in figure skating with an edgy, daring new partner. Nathan is everything her old teammate wasn't: sexy, dangerous, and extremely headstrong. As Karen nears her eighteenth birthday, the partners find themselves on the world stage—and the simmering intensity between them finally erupts.

As each woman struggles with a sudden thrust into the spotlight, their narratives become more intertwined—until Izzy's past and Karen's future finally collide.
About the Author
Gayle Brandeis is the author of the novel The Book of Dead Birds, which won Barbara Kingsolver's Bellwether Prize for Fiction in Support of a Literature of Social Change, and Fruitflesh: Seeds of Inspiration for Women Who Write. She lives in California with her family.
Praise For Delta Girls: A Novel…
"Readers will fall in love with the women of Delta Girls and cheer at the choices they make to keep their children safe. Brandeis transports the reader into California's verdant Delta country—where whales make wrong turns, where orchards bloom and must be picked in a matter of days—and reveals the lives of laborers and the industry behind them. I loved this book and wanted it to never end." —Jo-Ann Mapson, author of The Owl and Moon Cafe
 
"Delta Girls is a novel ignited by secrets—secrets that propel the novel to its wild climax. Brandeis proves an excellent guide into largely unfamiliar worlds. Most satisfying of all are her descriptions of the inner landscape of fierce maternal love." —Bridget Asher, author of My Husband's Sweethearts

or
Not Currently Available for Direct Purchase