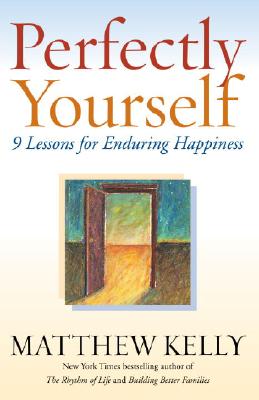 Perfectly Yourself: 9 Lessons for Enduring Happiness (Paperback)
9 Lessons for Enduring Happiness
Ballantine Books, 9780345494528, 222pp.
Publication Date: February 26, 2008
* Individual store prices may vary.
or
Not Currently Available for Direct Purchase
Description
"Just be yourself!" People say it all the time, but how do we actually live it?

For more than a decade Matthew Kelly has been helping people discover the best version of themselves. Now, in Perfectly Yourself, he addresses the opportunities and obstacles that we encounter once we decide to ask life's big questions: Who am I? What am I here for? Focusing on nine powerful and practical lessons, Kelly shows us how to find lasting happiness in a changing world.

We all have an insatiable need to grow and improve: Every year millions of us buy books and attend workshops in the hope that we will lose weight, improve our relationships, conquer debt, accomplish more in our careers, achieve financial independence, reach spiritual enlightenment, become better parents or lovers–the list goes on. We yearn for progress. And yet, many of us fail to achieve the transformations we desire.

"People don't fail because they want to fail," Kelly explains. "People don't go on a diet because they want to get fat. People don't get married to get divorced. Whether we are dealing with health and wellness, relationships, finances, spirituality, or career, people want to advance. Personal development animates us, brings us to life. In many cases one diet is as good as the next. One financial plan is as good as another. People are smart enough to work out which are the best, but still so many fail. We have to ask ourselves: Why?

"Fundamental to all transformation is understanding the dynamics of change so that we can be aware of the obstacles and opportunities that await us when we attempt to transform an area of our lives."

Kelly teaches us how to find the balance between accepting ourselves for who we are and challenging ourselves to become all we are capable of being. He encourages us to unify the many aspects of our lives, and reveals how to move beyond other people's expectations of who and what we should be.

Perfectly Yourself is for anyone who has ever failed at a diet, survived the collapse of a relationship, or wondered if he or she will ever find a fulfilling career. It's a book for all of us who long to be at peace with who we are, where we are, and what we are doing, not in some distant tomorrow but here and now–today.
About the Author
Matthew Kelly is the author of several books, including The Rhythm of Life""and The Seven Levels of Intimacy. His books have appeared on multiple bestseller lists including those of The New York Times, USA Today, and The Wall Street Journal. For more than a decade Kelly has been traveling the globe, and three million people in more than fifty countries have attended his seminars. One of the great emerging voices of our time, Kelly is the founder of The Matthew Kelly Foundation, whose major charitable work is to help young people discover their mission in life. Kelly is also the president of Dream Manager Consulting, a Chicago-based consulting company that helps corporations and individuals identify and live their dreams. "From the Hardcover edition."
Praise For Perfectly Yourself: 9 Lessons for Enduring Happiness…
Praise for The Rhythm of Life

"I loved this book! It provides significant insights into living a happier, healthier, more rewarding life."
–Dr. Stephen R. Covey, author of The 7 Habits of Highly Effective People

"The Rhythm of Life is a treasure for all those who dare to believe that there is a best-version-of-themselves. . . . Miss it at your peril!"
–Ken Blanchard, co-author of The One Minute Manager

"Matthew Kelly shows us how to find lasting happiness in a changing world . . . and how to fall in love again . . . with life. His message is both timely and timeless."
–Hal Urban, author of Life's Greatest Lessons

Praise for The Seven Levels of Intimacy

"A highly readable, well-written book that contains deep wisdom and practical guidance about relationships that will be useful to everyone seeking genuine and durable intimacy, especially couples. I highly recommend it."
–Harville Hendrix, Ph.D., author of Getting the Love You Want: A Guide for Couples
Advertisement