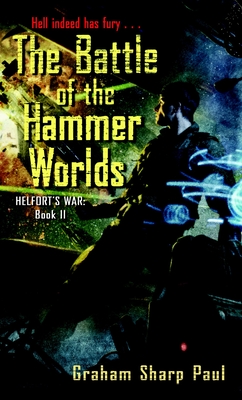 The Battle of the Hammer Worlds (Mass Market Paperbound)
Del Rey Books, 9780345495723, 325pp.
Publication Date: August 26, 2008
* Individual store prices may vary.
or
Not Currently Available for Direct Purchase
Description
He thought Hell was the worst they could throw at him.
He was wrong.

Back from tangling with the Hammer of Kraa, the most brutal, trigger-happy tyrants in humanspace, Junior Lieutenant Michael Helfort is assigned to the Federated Worlds heavy cruiser Ishaq, which is struggling to rise to the threat posed by a newly resurgent Hammer. Aboard the floundering ship, Helfort is coming to grips with a painful injury and the unpleasant truth that nobody likes a young hero-least of all senior officers. Without warning, the Ishaq and twenty-seven Fed merchant ships are blown apart in a horrific ambush, the first step in the Hammer's master strategy to destroy the hated Federated Worlds. Michael and a pitiful remnant of the Ishaq's crew escape the inferno. The Feds have no idea who's behind the heinous attack, and the Hammer are determined to keep it that way, consigning the Ishaq's survivors to a prison camp deep in the wilderness of the Hammer's home planet. No one's getting out alive to derail the Hammer's lethal master plan-especially not the FedWorlds hero who so humiliated them on the battlefield. It's payback time, and the Hammers intend to throw their entire space fleet into destroying Michael Helfort and the Federated Worlds. Too bad it won't be enough.
About the Author
Graham Sharp Paul, born in Sri Lanka, received an honors degree in archaeology and anthropology from Cambridge University and an MBA from Macquarie University. He joined the Royal Navy in 1972, qualifying as a mine warfare and clearance diving officer before reaching the rank of lieutenant commander with the Navy's mine warfare flotilla. In 1983 he transferred to the Royal Australian Navy, serving in its Trials & Assessments Unit and Clearance Diving School before transferring to civilian life in 1987. Paul worked for two Australian companies in the banking and media sectors before setting up his own business development and corporate finance consultancy in 1991. Over the next twelve years, he worked on a worldwide range of projects. In 2003 he gave up corporate life to write full-time. He also the author of The Battle at the Moons of Hell, the first novel in his Helfort's War series. Paul has three sons, and lives in Sydney with his wife, Vicki.
Advertisement