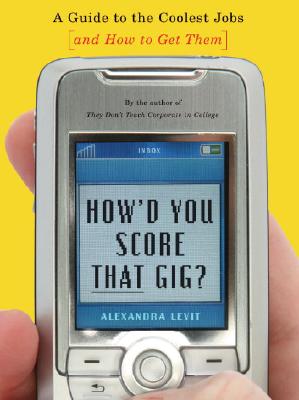 How'd You Score That Gig?: A Guide to the Coolest Jobs--And How to Get Them (Paperback)
A Guide to the Coolest Jobs--And How to Get Them
Ballantine Books, 9780345496294, 338pp.
Publication Date: April 15, 2008
* Individual store prices may vary.
or
Not Currently Available for Direct Purchase
Description
In How d You Score That Gig?, career expert Alexandra Levit profiles more than sixty of the coolest careers on the planet all rated in a national survey by twenty- and thirtysomethings for twenty- and thirtysomethings. To find the jobs that are calling your name, take Levit's short quiz and discover your passion profile. You may be:
an Adventurer: You re spontaneous, free-spirited, and you always ready for change = foreign services officer, oceanographer, news correspondent
a Creator: You re always looking for a way to express yourself = video game designer, book author, landscape architect
a Data Head: You have an uncanny knack for gathering and organizing information = computational linguist, meteorologist, urban planner
an Entrepreneur: You have business savvy and don t want to be chained to a desk = blogger, boutique owner, inventor
an Investigator: You excel in science, logic, and learning = futurist, classic-car restorer, field archaeologist
a Networker: You re a people person outgoing and a team player = lobbyist, speechwriter, TV producer
a Nurturer: Selfless and compassionate, you make a difference one person at a time = physical therapist, life coach, nutritionist
Engaging and practical, the book includes insider accounts of young careerists currently in these jobs and provides specific action steps for breaking in. So before you settle for a position that just isn t you, shake it up and land the career of your dreams
"Alexandra Levit's new book, How'd You Score That Gig?, is chock full of research, offers a rare glimpse into the privileged world of those who hold the jobs that other people covet, and provides the roadmap for readers to pursue fields that they might have considered out of reach. Don't hop blindly from career to career looking for one that suits you. Use this book as a guide to tell you what it's like before you make a wrong turn." --Penelope Trunk, author, Brazen Careerist: The New Rules for Success
"First, Alexandra Levit broadens your imagination about what kinds of careers are possible, and then after tantalizing you, she provides specific tips for breaking into the field. Enormously valuable "
--Ben Casnocha, author, My Start-Up Life: What a (Very) Young CEO Learned on His Journey Through Silicon Valley
"This is a cool, unusual, and truly useful book. In my career coaching practice, the number one issue my younger clients face is having the strong desire to do something different work-wise with little knowledge about what jobs exist and how to find them. Alexandra Levit's guide organizes passion into seven profiles and describes specific jobs within them. A real gem in the book is the innumerable resources listed to help readers learn more about the jobs that strike their fancy. Buy this book --Julie Jansen, author, I Don t Know What I Want, But I Know It's Not This
"Alexandra Levit has written an ideal book for all those adults who still don't know what they want to do when they grow up. The practical self-assessment that opens the book could point even the most indecisive person toward a realistic and satisfying career path. While reading about the dozens of coolest gigs that are thoroughly researched and attractively presented in this book, I almost started second-guessing my own career choices. Good thing I ve already scored a cool gig "--Tom Musbach, Editor, Yahoo HotJobs
Reading this is like having your own career counselor on call. It is, without doubt, the #1 book for anyone who's unhappy in their job, confused about what to do next, or just wonders if they re in the best career for them. I am giving a copy to every new college grad on my list. In fact, I m giving one to every high school grad I know too. --Barbara Stanny, author, Secrets of Six-Figure Women: Surprising Strategies to Up Your Earnings and Change Your Life

About the Author
Alexandra Levit is a nationally recognized business and workplace author and speaker. A syndicated columnist for the Wall Street Journal and a blogger for HuffingtonPost.com, Alexandra has authored several books, including the popular They Don't Teach Corporate in College, How'd You Score That Gig?, and Success for Hire. Alexandra makes frequent national media appearances and has been featured in thousands of outlets including the New York Times, USA Today, National Public Radio, ABC News, Fox News, CNBC, the Associated Press, Glamour, Cosmopolitan, and Fortune, and her articles regularly appear on the home pages of CNN, MSN, and Yahoo!.
Advertisement