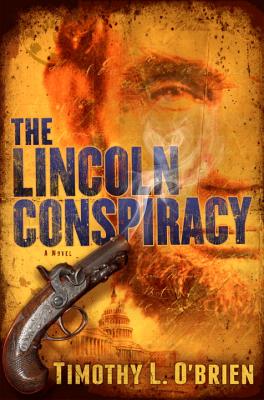 The Lincoln Conspiracy (Hardcover)
Ballantine Books, 9780345496775, 368pp.
Publication Date: September 18, 2012
Other Editions of This Title:
Digital Audiobook (9/17/2012)
Paperback (10/8/2013)
* Individual store prices may vary.
Description
A nation shattered by its president's murder
Two diaries that reveal the true scope of an American conspiracy
A detective determined to bring the truth to light, no matter what it costs him
 
From award-winning journalist Timothy L. O'Brien comes a gripping historical thriller that poses a provocative question: What if the plot to assassinate President Lincoln was wider and more sinister than we ever imagined?
 
In late spring of 1865, as America mourns the death of its leader, Washington, D.C., police detective Temple McFadden makes a startling discovery. Strapped to the body of a dead man at the B&O Railroad station are two diaries, two documents that together reveal the true depth of the Lincoln conspiracy. Securing the diaries will put Temple's life in jeopardy—and will endanger the fragile peace of a nation still torn by war.
 
Temple's quest to bring the conspirators to justice takes him on a perilous journey through the gaslit streets of the Civil War–era capital, into bawdy houses and back alleys where ruthless enemies await him in every shadowed corner. Aided by an underground network of friends—and by his wife, Fiona, a nurse who possesses a formidable arsenal of medicinal potions—Temple must stay one step ahead of Lafayette Baker, head of the Union Army's spy service. Along the way, he'll run from or rely on Edwin Stanton, Lincoln's fearsome secretary of war; the legendary Scottish spymaster Allan Pinkerton; abolitionist Sojourner Truth; the photographer Alexander Gardner; and many others.
 
Bristling with twists and building to a climax that will leave readers gasping, The Lincoln Conspiracy offers a riveting new account of what truly motivated the assassination of one of America's most beloved presidents—and who participated in the plot to derail the train of liberty that Lincoln set in motion.

Praise for The Lincoln Conspiracy
 
"History as a dangerous, inventive game . . . fascinating."—Martin Cruz Smith
 
"A notable fiction debut with an appealing detective hero and plenty of action. It gets off to a fast start and never stops."—Library Journal
 
"A historical puzzle as labyrinthine and grandiose as Scheherazade's tales . . . As clever as Sherlock Holmes, as wily as Pendergast in Preston and Child's series, and wickedly funny on top of it all, the irresistible McFadden is due to return in a sequel—thank goodness!"—Booklist (starred review)
 
"[A] fast-paced, well-conceived adventure . . . There is nothing more fun than losing oneself in O'Brien's rich and riotous mixture of reimagination and fact."—Historical Novels Review
 
"Gripping . . . The history and overall arc of the novel are superb . . . and Temple McFadden proves to be a worthwhile hero."—Associated Press
About the Author
Timothy L. O'Brien is the executive editor at the Huffington Post, where he edited the 2012 Pulitzer Prize-winning series about severely wounded war veterans, "Beyond the Battlefield." Prior to joining the Huffington Post he was a reporter and editor at" The New York Times, "where helped oversee "The Reckoning," a series about the financial crisis that was a Pulitzer Prize finalist in 2009. A graduate of Georgetown University, he holds three master's degrees--in U.S. History, Business, and Journalism--from Columbia University. He lives in Montclair, New Jersey, with his wife and two children.
Praise For The Lincoln Conspiracy…
Praise for The Lincoln Conspiracy
 
"History as a dangerous, inventive game . . . fascinating."—Martin Cruz Smith
 
"A notable fiction debut with an appealing detective hero and plenty of action. It gets off to a fast start and never stops."—Library Journal
 
"A historical puzzle as labyrinthine and grandiose as Scheherazade's tales . . . As clever as Sherlock Holmes, as wily as Pendergast in Preston and Child's series, and wickedly funny on top of it all, the irresistible McFadden is due to return in a sequel—thank goodness!"—Booklist (starred review)
 
"[A] fast-paced, well-conceived adventure . . . There is nothing more fun than losing oneself in O'Brien's rich and riotous mixture of reimagination and fact."—Historical Novels Review
 
"Gripping . . . The history and overall arc of the novel are superb . . . and Temple McFadden proves to be a worthwhile hero."—Associated Press
or
Not Currently Available for Direct Purchase