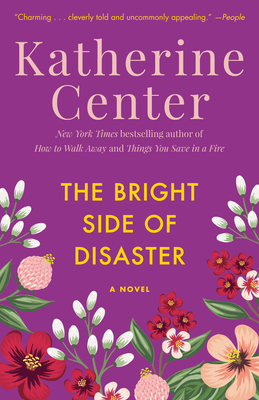 The Bright Side of Disaster (Paperback)
A Novel
Ballantine Books, 9780345497963, 288pp.
Publication Date: April 8, 2008
Other Editions of This Title:
Hardcover (6/26/2007)
* Individual store prices may vary.
Description
Sometimes the worst thing that can happen is exactly what you've been waiting for.

"Novels as polished and mature as The Bright Side of Disaster just don't come along very often from first-time novelists or, for that matter, from those with much longer résumés. . . . This story of a youthful-but-optimistic single mom rings bittersweet and utterly authentic."—The Dallas Morning News 

Very pregnant and not quite married, Jenny Harris doesn't mind that she and her live-in fiancé, Dean, accidentally started their family a little earlier than planned. But Dean is acting distant, and the night he runs out for cigarettes and doesn't come back, he demotes himself from future husband to sperm donor. And the very next day, Jenny goes into labor.

In the months that follow, Jenny plunges into a life she never anticipated: single motherhood. At least with the sleep deprivation, sore boobs, and fits of crying (both hers and the baby's), there's not much time to dwell on her broken heart. And things are looking up: Jenny learns how to do everything one-handed, makes friends in a mommy group, and even gets to know a handsome, helpful neighbor. But Dean is never far from Jenny's thoughts or, it turns out, her doorstep, and in the end she must choose between the old life she thought she wanted and the new life she's been lucky to find.

Praise for The Bright Side of Disaster

"Beautifully penned and truly memorable . . . a heartwarming and deeply emotional debut."—BookPage

"The Bright Side of Disaster is a treat of a book. It is so warm, so smart, so touching, so wise–and, despite its poignancy, you read the whole thing with a laugh in your throat."—Anna Maxted, author of A Tale of Two Sisters

"A funny and poignant novel about love, motherhood and men . . . elevates the subject matter beyond the realm of 'mommy lit.' "—Houston Chronicle
About the Author
Katherine Center graduated from Vassar College, where she won the Vassar College Fiction Prize, and received an MA in fiction from the University of Houston. She served as fiction co-editor for the literary magazine Gulf Coast, and her graduate thesis, Peepshow, a collection of stories, was a finalist for the Mary McCarthy Prize in Short Fiction. A former freelance writer and teacher, she lives in Houston with her husband and two young children.