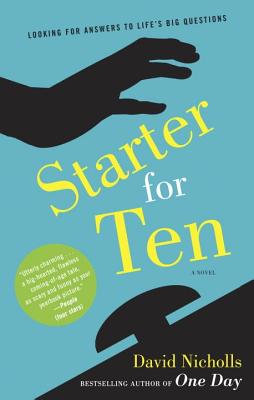 Starter for Ten (Paperback)
Villard Books, 9780345498120, 338pp.
Publication Date: January 23, 2007
Description
Now a major motion picture "Utterly charming . . . a big-hearted, flawless coming-of-age tale, as scary and funny as your yearbook picture."
-People (****/Critic's Choice)

The year is 1985. Brian Jackson, a working-class kid on full scholarship, has started his first term at university. He has a dark secret-a long-held, burning ambition to appear on the wildly popular British TV quiz show University Challenge-and now, finally, it seems the dream is about to become reality. He's made the school team, and they've completed the qualifying rounds and are limbering up for their first televised match. (And, what's more, he's fallen head over heels for one of his teammates, the beautiful, brainy, and intimidatingly posh Alice Harbinson.) Life seems perfect and triumph inevitable-but as his world opens up, Brian learns that a little knowledge can be a dangerous thing. "Fresh, edgy and very funny . . . Nicholls] has a talent for droll dialogue and a wonderful sense of the ridiculous."
-USA Today "Starter for Ten has that elusive Hornby-factor. . . . It's wincingly funny . . . a prospect to savour."
-Arena
About the Author
David Nicholls trained as an actor before making the switch to writing. He is the author of the novels A Question of Attraction, Starter for Ten, and The Understudy. Nicholls has also written many screenplays for film and television, including the feature film adaptation of Starter for Ten. He lives in London.
Advertisement