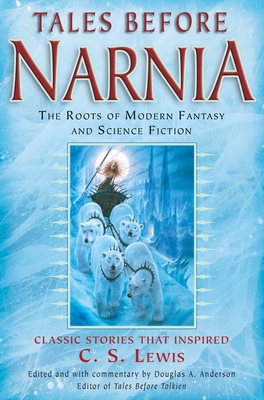 Tales Before Narnia: The Roots of Modern Fantasy and Science Fiction (Paperback)
The Roots of Modern Fantasy and Science Fiction
Del Rey Books, 9780345498908, 337pp.
Publication Date: March 25, 2008
* Individual store prices may vary.
or
Not Currently Available for Direct Purchase
Description
In his acclaimed collection Tales Before Tolkien, Douglas A. Anderson illuminated the sources, inspirations, and influences that fired J.R.R. Tolkien's genius. Now Anderson turns his attention to Tolkien's colleague and friend C. S. Lewis, whose influence on modern fantasy, through his beloved Narnia books, is second only to Tolkien's own.
In many ways, Lewis's influence has been even wider than Tolkien's. For in addition to the Narnia series, Lewis wrote groundbreaking works of science fiction, urban fantasy, and religious allegory, and he came to be regarded as among the most important Christian writers of the twentieth century. It will come as no surprise, then, that such a wide-ranging talent drew inspiration from a variety of sources. Here are twenty of the tributaries that fed Lewis's unique talent, among them:
"The Wood That Time Forgot: The Enchanted Wood," taken from a never-before-published fantasy by Lewis's biographer and friend, Roger Lancelyn Green, that directly inspired The Lion, the Witch, and the Wardrobe; E. Nesbit's charming "The Aunt and Amabel," in which a young girl enters another world by means of a wardrobe; "The Snow Queen," by Hans Christian Andersen, featuring the abduction of a young boy by a woman as cruel as she is beautiful; and many more, including works by Charles Dickens, Kenneth Grahame, G. K. Chesterton, and George MacDonald, of whom Lewis would write, "I have never concealed the fact that I regarded him as my master."
Full of fascinating insights into Lewis's life and fiction, Tales Before Narnia is the kind of book that will be treasured by children and adults alike and passed down lovingly from generation to generation.
INCLUDING SEVENTEEN MORE WORKS BY THE PROGENITORS OF MODERN FANTASY AND SCIENCE FICTION:
"Tegner's Drapa" by Henry Wadsworth Longfellow
"The Magic Mirror" by George MacDonald
"Undine" by Friedrich de la Motte Fouque
"Letters from Hell: Letter III" by Valdemar Thisted
"Fastosus and Avaro" by John Macgowan
"The Tapestried Chamber; or, The Lady in the Sacque" by Sir Walter Scott
"The Story of the Goblins Who Stole a Sexton" by Charles Dickens
"The Child and the Giant" by Owen Barfield
"A King's Lesson" by William Morris
"The Waif Woman: A Cue--From a Saga" by Robert Louis Stevenson
"First Whisper of The Wind in the Willows" by Kenneth Grahame
"The Wish House" by Rudyard Kipling
"Et in Sempiternum Pereant" by Charles Williams
"The Dragon's Visit" by J.R.R. Tolkien
"The Coloured Lands" by G. K. Chesterton
"The Man Who Lived Backwards" by Charles F. Hall
"The Dream Dust Factory" by William Lindsay Gresham.
Advertisement