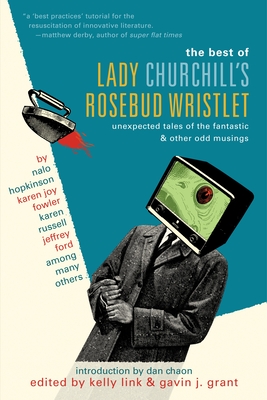 The Best of Lady Churchill's Rosebud Wristlet
Unexpected Tales of the Fantastic & Other Odd Musings
Paperback

* Individual store prices may vary.
Description
Unexpected tales of the fantastic, & other odd musings by Nalo Hopkinson, Karen Joy Fowler, Karen Russell, Jeffrey Ford, and many others

Contains stories by the amazing Jeffrey Ford, the fabulous Karen Joy Fowler, the unlikely Kelly Link, the thrilling Nalo Hopkinson, the shockingly good Karen Russell, the unnerving James Sallis, and dozens of uncanny others, as well as useful lists of many kinds and straight-shooting advice from Aunt Gwenda.

Edited by Kelly Link & Gavin J. Grant
Introduction by Dan Chaon

Contents include:
"Travels with the Snow Queen" by Kelly Link
"Scotch: An Essay into a Drink" by Gavin J. Grant
"Unrecognizable" by David Findlay
"Mehitobel Was Queen of the Night" by Ian McDowell
"Tan-Tan and Dry Bone" by Nalo Hopkinson
"An Open Letter Concerning Sponsorship" by Margaret Muirhead
"I Am Glad" by Margaret Muirhead
"Lady Shonagon's Hateful Things" by Margaret Muirhead
"Heartland" by Karen Joy Fowler
"What a Difference a Night Makes"
"Pretending" by Ray Vukcevich
"The Film Column: Don't Look Now" by William Smith
"A Is for Apple: An Easy Reader" by Amy Beth Forbes
"My Father's Ghost" by Mark Rudolph
"What's Sure to Come" by Jeffrey Ford
"Stoddy Awchaw" by Geoffrey H. Goodwin
"The Rapid Advance of Sorrow" by Theodora Goss
"The Wolf's Story" by Nan Fry
"Three Letters from the Queen of Elfland" by Sarah Monette
"Tacoma-Fuji" by David Moles
"Bay" by David Erik Nelson
"How to Make a Martini" by Richard Butner
"Happier Days" by Jan Lars Jensen
"The Fishie" by Philip Raines and Harvey Welles
"Dear Aunt Gwenda, Vol. 2" by Gwenda Bond
"The Film Column: Greaser's Palace" by William Smith
"The Ichthyomancer Writes His Friend with an Account of the Yeti's Birthday Party" by David J. Schwartz
"Serpents" by Vernoica Schanoes
"Homeland Security" by Gavin J. Grant
"For George Romero" by David Blair
"Vincent Price" by David Blair
"Music Lessons" by Douglas Lain
"Two Stories" by James Sallis
"Help Wanted" by Karen Russell
"'Eft' or 'Epic'" by Sarah Micklem
"The Red Phone" by John Kessel
"The Well-Dressed Wolf: A Comic" by Lawrence Shimel and Sara Rojo
"The Mushroom Duchess" by Deborah Roggie
"The Pirate's True Love" by Seana Graham
"You Could Do This Too"
"The Posthumous Voyages of Christopher Columbus" by Sunshine Ison
Praise For The Best of Lady Churchill's Rosebud Wristlet: Unexpected Tales of the Fantastic & Other Odd Musings…
Praise for LADY CHURCHILL'S ROSEBUD WRISTLET

"Tiny but celebrated."
–The Washington Post

"Lady Churchill's Rosebud Wristlet never fails to hook me."
–New Pages

"What is in this container?" Is it "dwarves and faeries and hobgoblins sitting around drinking mead out of acorns?" Or "post-nuclear holocaust cannibal mutants with a taste for sexy college students?" Perhaps it's something even more sinister, some sort of "weird or speculative fiction."
–from the Introduction by Dan Chaon
Del Rey, 9780345499134, 416pp.
Publication Date: August 28, 2007
About the Author
Kelly Link is the author of the collections Get in Trouble, Stranger Things Happen, Magic for Beginners, and Pretty Monsters. She and Gavin J. Grant have co-edited a number of anthologies, including multiple volumes of The Year's Best Fantasy and Horror and, for young adults, Monstrous Affections. She is the co-founder of Small Beer Press. Her short stories have been published in The Magazine of Fantasy and Science Fiction, The Best American Short Stories, and Prize Stories: The O. Henry Awards. She has received a grant from the National Endowment for the Arts. Link was born in Miami, Florida. She currently lives with her husband and daughter in Northampton, Massachusetts.
or
Not Currently Available for Direct Purchase