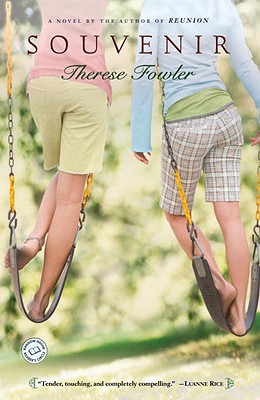 Souvenir (Paperback)
Ballantine Books, 9780345499691, 391pp.
Publication Date: February 10, 2009
Description
Meg Powell and Carson McKay were raised side by side on their families' farms, bonded by a love that only deepened as they grew. Everyone in their small rural community in northern Florida thought that Meg and Carson would always be together. But at twenty-one, Meg was presented with a marriage proposal she could not refuse, forever changing the course of her life.

Seventeen years later, Meg's marriage has become routine, and she spends her time juggling the demands of her medical practice, the needs of her widowed father, and the whims of her rebellious teenage daughter, Savannah, who is confronting her burgeoning sexuality in a dangerous manner and pushing her mother away just when she needs her most. Then, after a long absence, Carson returns home to prepare for his wedding to a younger woman. As Carson struggles to determine where his heart and future lie, Meg makes a shocking discovery that will upset the balance of everyone around her.
About the Author
Therese Fowler holds an MFA in creative writing. She grew up in Illinois, and now lives in Raleigh, North Carolina, with her husband and two sons. This is her first novel. "From the Hardcover edition."
Did Meg realistically have a choice about whether or not to marry Brian? Even if her parents pressured her into it for reasons of their own, was anything stopping her from refusing?
Meg sacrifices her happiness for the sake of her parents . . . But do you think she embraces the role of martyr a little too zealously? And do you think the prospect of attending med school and becoming a doctor entered into her decision at all?
Does Meg ever come to grips with the fact that her parents have betrayed her by pressuring her into a loveless marriage solely for financial gain? How does this affect the kind of woman she becomes, as wife and mother?
Is there a chance that Meg's decision to marry Brian had something to do with her feelings for Carson? Is there evidence in the novel that she was afraid of the intensity of those feelings and was looking for a way out? What other reasons, besides what Meg consciously believes, could have influenced her decision?
William Faulkner once wrote, "The past isn't dead. It isn't even past." How do those lines pertain to Souvenir?
Did Carson give up on Meg too easily back in 1989? What more could he have done to win her back?
Are Meg and Carson trapped by the past? Are their memories and regrets preventing them from moving forward?
Do you think Carson and Meg find some peace and happiness by the novel's end? What has the price of that been for them and for those close to them? Was it worth it?
Did you find Meg to be a likable character? Why or why not?
How would you face a diagnosis of ALS, or Lou Gehrig's Disease? Do you think Meg makes the right choice, or is her decision to take her own life a selfish one?
Does Carson do the right thing by breaking off his engagement with Val? Isn't he treating her the same way that Meg treated him years earlier?
What do you think made Savannah so vulnerable to Kyle's advances and to his introduction of drugs and sex into their relationship?
Does Souvenir accurately portray the dangers of the Internet, or does it exaggerate the threats?
Were you surprised by the revelation that Savannah was Carson's biological daughter? What clues did the author plant in order to prepare this surprise?
Is Meg a good mother? How does her relationship to her own mother color her relationship with Savannah?
Advertisement