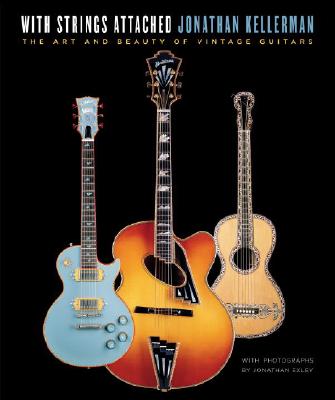 With Strings Attached: The Art and Beauty of Vintage Guitars (Hardcover)
The Art and Beauty of Vintage Guitars
Ballantine Books, 9780345499783, 344pp.
Publication Date: October 28, 2008
Description
For thirty-five years, bestselling author and accomplished musician Jonathan Kellerman has been, as he puts it in his Introduction to this lavishly illustrated, endlessly fascinating volume, "chasing fabulous sound." The result of that quest is a world-class collection of guitars, mandolins, and other stringed instruments that number more than 120 . . . and counting.
Kellerman takes us on a fascinating guided tour through his collection, complete with rich personal histories of his favorite instruments and of the brilliant, often eccentric craftsmen and musicians who brought them to life. It is a record of one man's lifelong love affair with the guitar . . . and it is much, much more.
Whether writing about household names such as Fender, Gibson, Martin, and Dobro or about marques revered by aficionados-D'Angelico, Hauser, Stromberg, and Torres-Kellerman brings to bear the same sure storytelling instincts and keen attention to detail that characterize his bestselling fiction, making each entry a sparkling mini-essay as much to be savored as the sensual photographs that follow.
Your fingers won't be walking through With Strings Attached. They'll be strumming. Picking. Stroking.
And dancing.
About the Author
Jonathan Kellerman is one of the world's most popular authors. He has brought his expertise as a clinical psychologist to more than two dozen bestselling crime novels, including the Alex Delaware series, The Butcher's Theater, Billy Straight, The Conspiracy Club, and Twisted. With his wife, the novelist Faye Kellerman, he co-authored the bestsellers Double Homicide and Capital Crimes. He is the author of numerous essays, short stories, scientific articles, two children's books, and three volumes of psychology, including Savage Spawn Reflections on Violent Children. He has won the Goldwyn, Edgar, and Anthony awards and has been nominated for a Shamus Award. Jonathan and Faye Kellerman live in California and New Mexico. Their four children include the novelist Jesse Kellerman.
Praise For With Strings Attached: The Art and Beauty of Vintage Guitars…
"Jonathan Kellerman has assembled a stellar cast of guitars that serves not only the history and craft of the great luthiers but also whets the appetite for all of us who are mad about guitars. Long may he collect."
–Andy Summers, from the Introduction
Advertisement