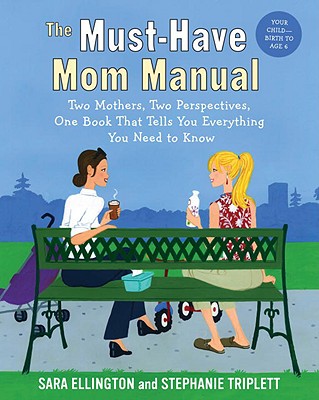 The Must-Have Mom Manual (Paperback)
Two Mothers, Two Perspectives, One Book That Tells You Everything You Need to Know
Ballantine Books, 9780345499875, 544pp.
Publication Date: April 7, 2009
* Individual store prices may vary.
Description
Whether it is bottle- or breast-feeding, cribs or co-sleeping, getting back to the office or staying home with the kids, best friends Sara Ellington and Stephanie Triplett, the team behind the popular book and radio show The Mommy Chronicles, rarely choose the same option. Lucky for us, in The Must-Have Mom Manual, they discuss the pros and cons of every aspect of child raising, from pacifiers to potty training, bedtimes to birthday parties, day care to Disney World.

Their philosophy is simple: There is no one right way to be a mom. Sara and Stephanie just want to make every mother's life easier. So, with a healthy dose of humor, they share their parenting triumphs and disasters, marital challenges, public meltdowns, and all the knowledge they've gained as authors and radio show hosts, with hundreds of tips for moms everywhere.

• 10 things not to feel guilty about–because every mother feels bad about something
• Answers for new moms about leaving the house with baby for the first time, postpartum depression, accepting help, car seats, and dining out with baby
• Sticky parenting decisions–including the consensus on little white lies, family nudity, "correcting" homework, and leaving your child in the car (just for a second)
• Managing your household and how to conquer the clutter with special strategies for organizing every room in your home
• Products for moms, the best mom-gear, cleaning products–including technology, gadgets, stores, and places to take the kids
• Marriage 911, sleep or sex?, how to keep the home fires burning–plus four people who can sabotage your sex life

Covering "all things Mommy," Sara and Stephanie are real mothers delivering real insights, with real laughs, as they tackle and celebrate the challenges and drama of motherhood in the best, easiest, most mom-friendly guide to life with kids today.
About the Author
Sara Ellington has written for Charlotte Ventures magazine, Mothers & More's national newsletter, Forum, and a NASCAR television pilot. Her award-winning advertising work has appeared in The Wall Street Journal, Southern Living, and the Charlotte Observer. From 2005 to 2006 she cohosted The Mommy Chronicles radio show with Stephanie Triplett; they appeared on NBC's Today show and were selected as "spokesmoms" by Johnson & Johnson for a national satellite media tour announcing the birth of the 300 millionth American. Ellington is the coauthor of The Mommy Chronicles and The Must-Have Mom Manual.

Stephanie Triplett is the author of The Mommy Chronicles and The Must-Have Mom Manual with Sara Ellington. She has more than 20 years of experience in marketing and has managed the marketing and promotion of everything from television shows and fitness professionals to gas pumps and dog vaccines. She also worked with Sara Ellington to develop The Mommy Chronicles, an hour-long weekly talk radio show for moms that aired from 2005 through 2006 on Sirius Satellite Radio, channel 114.
Praise For The Must-Have Mom Manual: Two Mothers, Two Perspectives, One Book That Tells You Everything You Need to Know…
"Hosts of the Sirius radio show The Mom Chronicles, Triplett and Ellington offer sage advice in the practice of "momology" based on their own experiences—one a mom with a career outside the home, the other a stay-at-home mom… Readers will appreciate the decidedly unglamorous, often humorous, and always practical advice."—Booklist

"Former radio show cohosts and authors (The Mommy Chronicles), Ellington and Triplett are an odd couple–best friends with differing views who happened to have been pregnant at the same time… Together, they prove that there's 'no one right way to be a good mom,' as they dole out advice on an array of topics ranging from recovering from the giving birth to dealing with 'sticky decisions' like whether to let kids eat Pop Tarts for breakfast. While the authors have thoroughly researched their material, they've also lived it, and along with tips from medical experts and other resources, they include insider advice readers won't hear from their pediatricians (i.e.: to avoid embarrassment, practice collapsing the stroller before going out in public)…This breezy, chatty read is filled with practical information as well as laughs."—Publishers Weekly
or
Not Currently Available for Direct Purchase