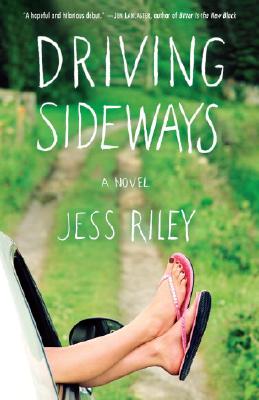 Driving Sideways (Paperback)
A Novel
Ballantine Books, 9780345501103, 352pp.
Publication Date: May 20, 2008
* Individual store prices may vary.
Description
Leigh Fielding wants a life. Seriously. Having spent the past five years on dialysis, she has one simple wish: to make it to her thirtieth birthday. Now, thanks to the generosity of the late Larry Resnick and his transplanted kidney, it looks like her wish may come true.

With her newfound vitality (and Larry's kidney) in tow, Leigh hits the road for an excursion that will carry her from Wisconsin to California, with a few stops in between: Mount Rushmore, the Badlands, the Rockies, Las Vegas–and a memorable visit to thank Larry's family for the second chance.

Yet Leigh's itinerary takes a sudden detour when she picks up a seventeen-year-old hitchhiker, Denise, a runaway with a bunch of stories and a couple of secrets. Add a long-lost mother, a loaded gun, an RV full of swingers, and Hall and Oates's Greatest Hits to the mix, and Driving Sideways becomes a hilarious and original journey of friendship, hope, and discovery.


Praise for Driving Sideways:

"Driving Sideways is a gorgeous novel . . . hugely entertaining and very touching. Jess Riley's voice is irreverent and wonderful, and her writing is genius."
–Marian Keyes, author of Anybody Out There?

"A hopeful and hilarious debut ... Jess Riley may well be my new favorite author." –Jen Lancaster, author of Bitter is the New Black

"Brilliant . . . Jess Riley proves herself a huge new talent."
–Kristy Kiernan, author of Catching Genius
About the Author
Jess Riley is a grant writer who lives in Oshkosh, Wisconsin, with her husband and their dog. Her book, Driving Sideways, was a finalist in the 2005 James Jones First Novel Fellowship.
Praise For Driving Sideways: A Novel…
Praise for Driving Sideways:
"Leigh Fielding was diagnosed with kidney disease and recently received a transplant. Since then, she's been trying all kinds of new things and comes to believe that she's channeling the donor, Larry. She decides to leave her central Wisconsin home for a road trip to meet Larry's family and see if he's anything like the new personality she has acquired. Things go awry at the Minnesota border when a teenage girl named Denise steals Leigh's purse and uses it to blackmail Leigh into giving her a ride to L.A. On the way they visit classic tourist traps and try to stay out of trouble, especially since Denise claims that it's her crazy ex in the black sedan that seems to be following them. Leigh's road trip continues, embracing both highs and lows, alternately hilarious, humiliating, and heartbreaking, often within the same sentence. Smart and funny without being forced, sentimental without being maudlin, Riley's funny, picaresque vision of America will make readers wish they could go along with Leigh on her next trip."
— Hilary Hatton
"Driving Sideways is a gorgeous novel -- I LOVED it!! It's enjoyable, uplifting, and so so so funny and sparky. I found it hugely entertaining and very touching. Jess Riley's voice is irreverent and wonderful, and her writing is genius." -- Marian Keyes, author of Anybody Out There?
"A hopeful and hilarious debut ... Jess Riley may well be my new favorite author." -- Jen Lancaster, author of Bitter is the New Black
"Brilliant … Jess Riley proves herself a huge new talent." -- Kristy Kiernan, author of Catching Genius
or
Not Currently Available for Direct Purchase