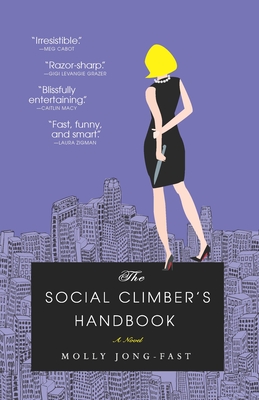 The Social Climber's Handbook (Paperback)
A Novel
Villard, 9780345501899, 256pp.
Publication Date: April 26, 2011
* Individual store prices may vary.
Description
HIGH SOCIETY CAN BE A KILLER.
 
Upper East Side socialite Daisy Greenbaum is accustomed to the finer things—designer clothes, summers in the Hamptons, elite private school educations for her daughters, and a staggeringly expensive Park Avenue apartment. But Daisy finds her well-heeled lifestyle on precarious footing after her husband, master of the universe Dick Greenbaum, learns about some shady dealings that threaten his position at The Bank.

Daisy refuses to allow her family to slip down the social ladder, so she devises a madcap plan: Anyone who jeopardizes her place at the top will simply have to be dispatched—six feet under. From Dick's arrogant boss to his scheming former mistress to a pair of nosy bloggers, Daisy's hit list is a who's who of big names with even bigger secrets. But with the body count rising as the Dow Jones falls, can Daisy really get away with murder?
About the Author
Molly Jong-Fast is the author of Normal Girl, Girl, Maladjusted, and The Social Climber's Handbook.  She has written for many newspapers and magazines, including The New York Times, Harpers Bazaar, W Magazine, Cosmo, The Times (UK), and Marie Claire.  She lives in Manhattan.  She is married to a recovering academic.  They have three very small children, all of whom like to talk to her when she is on the phone.
Praise For The Social Climber's Handbook: A Novel…
One of "the month's must reads."--Town & Country

"Required reading."--New York Post

"[A] wickedly satiric serial-killer novel...which somehow calls to mind both Gossip Girl and American Psycho."--Entertainment Weekly

"The pairing of an outsider's eye with an insider's zip code has afforded Jong-Fast a certain perspective in her satire. At the same time she's sending society up, she's aiming to create characters readers care about."--Women's Wear Daily

"Kudos go to author Molly Jong-Fast for capturing the state of womanhood and married life in its grittiest and for creating believable characters who do things that make people say, you can't make this stuff up...There is great comedy in this novel. It's like Conan O'Brien was invited to comment on this funeral for women without options."--Forbes

"Deliciously wicked! Molly Jong-Fast's quick wit and keen eye make her the new queen of comedy. An irresistible read."--Meg Cabot, author of Insatiable and the Princess Diaries series

"Molly Jong-Fast so skillfully conjures an American Psycho for the Bergdorf's set that it leads one to wonder why more beautiful heads didn't fall along with the Dow."—Emma McLaughlin & Nicola Kraus, authors of The Nanny Diaries

"Molly Jong-Fast's new novel is a razor-sharp, hilarious account of the summer of 2008 seen through the eyes of my favorite serial murderess, Daisy Greenbaum, who's only trying to keep home, hearth, and her Upper East Side social life intact. I ate up every word."--Gigi Levangie Grazer, author of Queen Takes King 

"As addictive as Valrhona chocolate and every bit as delicious. Molly Jong-Fast's ability to inhabit such a wide range of high and low characters is nothing short of miraculous.  Jong-Fast's prose is hilarious, surprising and very smart. I absolutely loved this book."--Julie Klam, author of You Had Me at Woof

"Molly Jong-Fast's slick, sophisticated romp through the Upper East Side 'haves' is a fast, funny and smart piece of fiction. Read this book!"--Laura Zigman, author of Animal Husbandry

"Snortingly funny, astonishingly observant, The Social Climber's Handbook is the kind of blissfully entertaining novel I wish I could read every night."--Caitlin Macy, author of Spoiled

"Mix two cups Jane Austen, a dash of Fran Lebowitz, a tablespoon of Tom Wolfe, and a pinch of Jonathan Swift; stir vigorously with Freddy Krueger's bladed glove; set to simmer atop your Viking stove in your Park Avenue duplex, and you will begin to appreciate the delectable dish that is Molly Jong-Fast's satire. Better yet? Just order in take-out and read this book."--Deborah Copaken Kogan, author of Between Here and April and Shutterbabe

"Molly Jong-Fast is one of New York City's funniest people, and with The Social Climber's Handbook—a dark satire of Upper East Side manners, Wall Street crimes, and a little light serial murder—she really puts the dead into deadpan. Like its author, this book is shameless, tasteless and ruthless—and extremely good company."--Rebecca Mead, author of One Perfect Day

"Terrific. Molly Jong-Fast's wit is superb, and the way she portrays the Upper East Side family life is fascinatingly intriguing...This was a book I found difficult to put down once I got into it."--Fresh Fiction

"Edgy...Darkly comic take on the 'greed is good' shenanigans that led up to the recent financial apocalypse."--Kirkus Reviews

"Twisted fun…a campy bloodbath à la Patrick Bateman in Jimmy Choos."--Publishers Weekly

"No doubt you may be wondering what becomes of Daisy in this quirky novel. Sorry; that would ruin the fun and the story's ending. You'll have to find a copy and see if and how justice is finally served if, indeed, it ever is!"--BookLoons

"A real page-turner and I highly recommend it!"--Coterie Books

"Funny as hell...Irresistible."--Connecticut News

Praise for the author's previous novel:
 
"Normal Girl is a searing, bitchy, funny novel about privilege in wretched excess and the accidental nature of grace.  Molly Jong-Fast is a prodigy.  Parents everywhere should be horrified by this deeply impressive debut." – Jay McInerney

"Rich in dark comedy and sad pronouncements.  The writing is always taut and effective, precise and assured." – London Times
 
"[Molly Jong-Fast] has a great ear and a keen eye for the tired and tawdry world she describes here…obvious talent."  -- The Boston Globe
 
"Already posted to be as talked-about as Fear of Flying."  -- Interview 
 
"An edgy comedy about a 19-year-old rich girl in New York who has 'more issues than Harper's Bazaar.'" – USA Today
 
"So much talent, so young a writer! Hard-edged, savage, funny, brilliant."  -- Fay Weldon
 
"If you want to know what goes on in the minds of New York's young, rich, and famous, read Molly Jong-Fast's hilarious novel, Normal Girl." – Susan Cheever
or
Not Currently Available for Direct Purchase