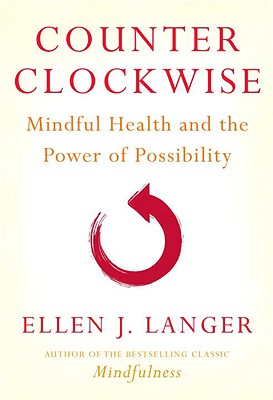 Counterclockwise
Mindful Health and the Power of Possibility
Hardcover

* Individual store prices may vary.
Other Editions of This Title:
MP3 CD (8/11/2015)
MP3 CD (5/19/2009)
MP3 CD (5/19/2009)
Compact Disc (5/19/2009)
Compact Disc (5/19/2009)
Description
If we could turn back the clock psychologically, could we also turn it back physically? For more than thirty years, award-winning social psychologist Ellen Langer has studied this provocative question, and now, in Counterclockwise, she presents the answer: Opening our minds to what's possible, instead of presuming impossibility, can lead to better health–at any age.

Drawing on landmark work in the field and her own body of colorful and highly original experiments–including the first detailed discussion of her "counterclockwise" study, in which elderly men lived for a week as though it was 1959 and showed dramatic improvements in their hearing, memory, dexterity, appetite, and general well-being–Langer shows that the magic of rejuvenation and ongoing good health lies in being aware of the ways we mindlessly react to social and cultural cues. Examining the hidden decisions and vocabulary that shape the medical world ("chronic" versus "acute," "cure" versus "remission"), the powerful physical effects of placebos, and the intricate but often defeatist ways we define our physical health, Langer challenges the idea that the limits we assume and impose on ourselves are real. With only subtle shifts in our thinking, in our language, and in our expectations, she tells us, we can begin to change the ingrained behaviors that sap health, optimism, and vitality from our lives. Improved vision, younger appearance, weight loss, and increased longevity are just four of the results that Langer has demonstrated.

Immensely readable and riveting, Counterclockwise offers a transformative and bold new paradigm: the psychology of possibility. A hopeful and groundbreaking book by an author who has changed how people all over the world think and feel, Counterclockwise is sure to join Mindfulness as a standard source on new-century science and healing.
Praise For Counterclockwise: Mindful Health and the Power of Possibility…
"Ellen Langer offers us brilliant insights into subtleties that hold us back in life, and shows the way to shining new possibilities. Counterclockwise will change the way you see and think." — Daniel Goleman, Ph.D., author Emotional Intelligence and Ecological Intelligence

"Counterclockwise makes a strong case for the influence of expectation and belief on how our bodies function, on how we heal, and even how we age.  Ellen Langer presents fascinating scientific data to support this view and argues convincingly that we should learn to take greater control of our health through the practice of mindfulness. Her research is innovative and empowering."—Andrew Weil, M.D.

"Ellen Langer's work has been an inspiration to me for years. Counterclockwise, her latest book, will change the way you think about your health — for the better. It's simply fabulous." —Christiane Northrup, MD, author The Secret Pleasures of Menopause and The Wisdom of Menopause

"Awareness-mindfulness-is the first step in healing. In Counterclockwise, Dr. Ellen Langer eloquently describes how becoming more aware of our beliefs and expectations allows us to powerfully transform our lives for the better. A pioneering, beautifully-written book." —Dean Ornish, M.D.

"Take a smart, creative social scientist, without any respect for conventional wisdom and you get Ellen Langer. She is a fantastic storyteller, and Counterclockwise is a fascinating story about the unexpected ways in which our minds and bodies are connected. More importantly, Counterclockwise shows how a better understanding of this relationship can lead to a better life."—Dan Ariely, Ph.D., author of Predictably Irrational: The Hidden Forces that Shape Our Decisions

"Counterclockwise presents a new way to think about lifelong health and aging. Read this most important book to improve your quality of life at any age." —Deepak Chopra

"Counterclockwise is a gem–a book that is equally practical and philosophical without seeming to be either, and one that makes you feel better—more conscious and more prepared–about growing old, even if you weren't feeling bad about it in the first place. There is no one thinking more creatively about sickness and health than Ellen Langer, and she shares what she knows here with uncommon felicity."
— Sue Halpern, author of Can't Remember What I Forgot: The Good News from the Front Lines of Memory Research

"Dr. Langer's work provides fascinating insight into the body-mind connection. She shows how changing our minds changes our bodies to optimize our health and performance as we get older." —Jill Bolte Taylor, author, My Stroke of Insight
Ballantine Books, 9780345502049, 240pp.
Publication Date: May 19, 2009
About the Author
Ellen J. Langer is the author of eleven books, including the international bestseller Mindfulness, which has been translated into fifteen languages, and more than two hundred research articles. She is the recipient of, among other numerous awards and honors, a Guggenheim Fellowship, the Award for Distinguished Contributions to Psychology in the Public Interest from the American Psychological Association, the Award for Distinguished Contributions of Basic Science to the Application of Psychology from the American Association of Applied and Preventive Psychology, and the Adult Development and Aging Distinguished Research Achievement Award from the American Psychological Association. Langer's trailblazing experiments in social psychology have earned her inclusion in The New York Times Magazine's "Year in Ideas" issue and will soon be the subject of a major motion picture. A member of the psychology department at Harvard University and a painter, she lives in Cambridge, Massachusetts.
or
Not Currently Available for Direct Purchase