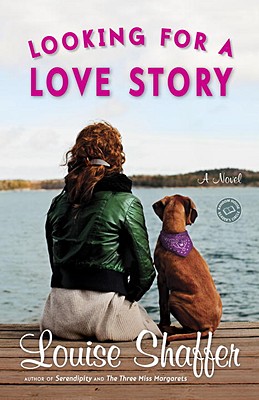 Looking for a Love Story (Paperback)
Ballantine Books, 9780345502100, 310pp.
Publication Date: April 6, 2010
* Individual store prices may vary.
or
Not Currently Available for Direct Purchase
Description
In Louise Shaffer's delightfully charming new novel, a hopeless romantic (and author adrift) searches for a happy ending--and decides to write her own love story. After the success of her first novel, Love, Max--an irresistibly funny look at divorce as seen through a dog's eyes--Francesca's fictional saga becomes real when her sexy photographer husband bails on her. The good news is that Francesca gets custody of their apartment and their dog--an adoring scamp who has mastered the art of unconditional love. Still, a girl and her dog have to eat, so a desperate search for income leads Francesca to Chicky, a spunky, red-haired octogenarian who wants Francesca to write the memoirs of her parents, Joe and Ellie, who toured the vaudeville circuit in the early 1920s. Francesca is reluctant to take the job, but Chicky's tales soon lure her into a showbiz era as irresistible and unlikely as the love story that unfolds. As she re-creates Joe and Ellie's story, Francesca reflects, with hilarious honesty, on her own childhood and marriage--and discovers how to put the pieces of her life back together in a way that redefines herself and the true meaning of family and love.

About the Author
Louise Shaffer is the author of Family Acts, , The Ladies of Garrison Gardens and The Three Miss Margarets. A graduate of Yale Drama School, she has written for television, and has appeared on Broadway, in TV movies, and in daytime dramas, earning an Emmy for her work on Ryan's Hope. Shaffer and her husband live in the Lower Hudson Valley.
Praise For Looking for a Love Story…
"Sweet and hopeful, Francesca's story is just right for chick-lit readers looking for something with a little emotional heft but a happy ending (and a dog)."—Booklist

"Shaffer is at her best telling Chicky's story, a throwback to potboilers of the 1920s, giving this single-gal redemption story unexpected depth."—Publishers Weekly

"It is not the easiest thing to bring two timelines to life in a single book….Shaffer makes it work, though. More: she makes it sing."—January Magazine

"I loved Shaffer's earlier novels, Serendipity, The Three Miss Margarets, Family Acts and The Ladies of Garrison Gardens. Looking for a Love Story is a wonderful addition to the list.….will likely go on my list of favorite novels for 2010."—The Pilot (NC)
Advertisement