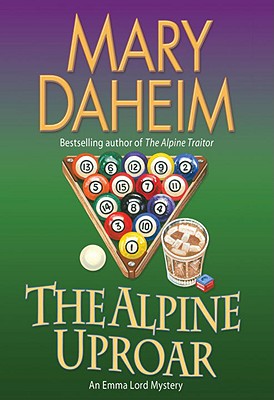 The Alpine Uproar: An Emma Lord Mystery (Hardcover)
An Emma Lord Mystery
Ballantine Books, 9780345502551, 384pp.
Publication Date: June 23, 2009
* Individual store prices may vary.
or
Not Currently Available for Direct Purchase
Description
The picturesque little town of Alpine in the foothills of Washington's Cascade Mountains is no longer the rough-and-ready logging camp of yesteryear. So when a drunken brawl at the Icicle Creek Tavern leaves a loner named Alvin De Muth dead, the residents feel as if they've gone back to the Bad Old Days.

The inquiry into the unfortunate incident should be a no-brainer. There are plenty of witnesses to the fatal fight, but since most of them were half-tanked at the time, Sheriff Milo Dodge is left scratching his head over a fistful of conflicting stories. Luckily for Emma Lord, editor and publisher of The Alpine Advocate, the news breaks just before the paper's Wednesday deadline, so for once she can give the radio station some real competition. But soon she has an even bigger story to report: a heartbreaking highway accident that leaves two people dead and a likable young local on life support.

From Front Street to River Road, from Stella's Styling Salon to the Burger Barn, rumors are flying. Are the two tragedies linked in some inexplicable way? Was De Muth a mentor or a menace to Alpine's teenage boys? What compels an ethereal female to visit Emma and insist that De Muth's self-confessed killer is innocent? And (much to Emma's chagrin) is it true that the sheriff is about to rewed his ex?

Emma senses that there's a story behind the story and is determined to uncover the truth. Assisted by that human bulldozer Vida Runkel, the Advocate's House & Home editor, Emma goes for the gold.

Welcome to another Daheim masterpiece that will challenge the cleverest reader–and a warmhearted world of small-town life, as richly addictive as it is dangerous.
About the Author
Mary Daheim is a Seattle native who started spinning stories before she could spell. Daheim has been a journalist, an editor, a public relations consultant, and a freelance writer, but fiction was always her medium of choice. In 1982 she launched a career that is now distinguished by more than fifty novels. In 2000, she won the Literary Achievement Award from the Pacific Northwest Writers Association. In October 2008 she was inducted into the University of Washington's Communications Hall of Fame. Daheim lives in Seattle with her husband, David, a retired professor of cinema, English, and literature. The Daheims have three daughters: Barbara, Katherine, and Magdalen.
Praise For The Alpine Uproar: An Emma Lord Mystery…
"Emma is a likable, principled, caring character and an engaging narrator, and her account of the trials of running a small newspaper provides a fascinating frame."—Booklist

"Witty one-liners and amusing characterizations."—Publishers Weekly

Advertisement