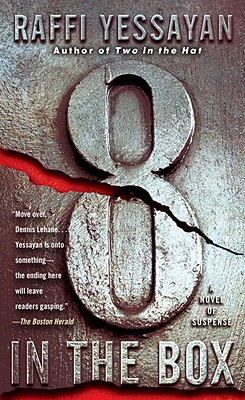 8 in the Box (Mass Market Paperbound)
Ballantine Books, 9780345502629, 346pp.
Publication Date: March 23, 2010
* Individual store prices may vary.
or
Not Currently Available for Direct Purchase
Description
The harrowing scene is always the same: the home of a single woman, no signs of forced entry, no evidence of an intruder, and no victim--only a bathtub filled with blood. Newly promoted homicide detective Angel Alves wants to make his mark in the department and a difference on the streets, but tracking this elusive serial killer sorely challenges his commitment and skills. Meanwhile, assistant DA Conrad Darget has his own hands full mentoring an ambitious young law student and rallying his fellow attorneys in their daily courtroom battles. With each new attack the twisted mystery only deepens, and the hunger for answers--and action--intensifies. No sane mind could comprehend the dark design behind it all. And no one can anticipate the final fateful strokes that will lead to a shocking endgame.

About the Author
Raffi Yessayan is the author of 2 in the Hat. He spent eleven years as an assistant district attorney in Boston. Within two years of becoming a prosecutor he was named to the Gang Unit, ultimately becoming its chief. He recently left the DA's office to go into private practice. He and his wife live in Massachusetts. 8 in the Box is his first novel.
Praise For 8 in the Box…
"Reminiscent of Joseph Wambaugh . . . [The killer is a] riveting character who jumps off the page."—Boston Globe
 
"A startling denouement catches all involved by complete surprise."—Wichita Falls Times Record News

"Raffi Yessayan's Eight in the Box is an awesome, chilling legal thriller. It took me back to the days when I was chasing down the darker elements with Eddie Egan and Sonny Grosso while researching and writing The French Connection. Yessayan may be the best prosecutor-turned-crime-writer to hit the streets since George V. Higgins and Scott Turow."–Robin Moore, author of The French Connection and The Set Up

"With its superb dead-on dialogue and criminal procedure so authentic I felt as if I had slipped under crime-scene tape and disappeared into an underworld meant only for cops and killer, Eight in the Box had me hooked and on the edge of my seat from page 1. This is one of the most shocking and accurate crime novels ever written."–Andrew McAleer, professor of crime fiction, Boston College, and author of Mystery Writing in a Nutshell

"If you enjoy baffling murders investigated by credible, indelible homicide detectives and prosecutors, you're going to love Eight in the Box. A onetime assistant district attorney in Boston, Raffi Yessayan conveys both an air of authenticity and a sense of dedication in describing the men and women who must 'speak for the dead.' This is a wonderful debut crime novel."
–Jeremiah Healy, author of The Only Good Lawyer and Turnabout
Advertisement