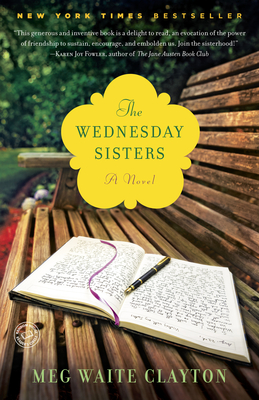 The Wednesday Sisters (Paperback)
A Novel (Wednesday Series #1)
Ballantine Books, 9780345502834, 336pp.
Publication Date: May 5, 2009
* Individual store prices may vary.
Description
NEW YORK TIMES BESTSELLER

Five women, one passion, and the unbreakable bond of friendship

When five young mothers—Frankie, Linda, Kath, Ally, and Brett—first meet in a neighborhood park in the late 1960s, their conversations center on marriage, raising children, and a shared love of books. Then one evening, as they gather to watch the Miss America Pageant, Linda admits that she aspires to write a novel herself, and the Wednesday Sisters Writing Society is born. The five women slowly, and often reluctantly, start filling journals, sliding pages into typewriters, and sharing their work. In the process, they explore the changing world around them: the Vietnam War, the race to the moon, and a women's movement that challenges everything they believe about themselves. At the same time, the friends carry one another through more personal changes—ones brought about by infidelity, longing, illness, failure, and success. With one another's support and encouragement, the Wednesday Sisters begin to embrace who they are and what they hope to become, welcoming readers to experience, along with them, the power of dreaming big.
About the Author
Meg Waite Clayton is the author of The Language of Light, a finalist for the Bellwether Prize. Her stories and essays have appeared in Runner's World, Writer's Digest, and literary magazines. She is a graduate of the University of Michigan Law School and was a Tennessee Williams Scholar at the Sewanee Writers' Conference. She lives in Palo Alto, California, with her husband and their two sons.


From the Hardcover edition.
Praise For The Wednesday Sisters: A Novel (Wednesday Series #1)…
"This generous and inventive book is a delight to read, an evocation of the power of friendship to sustain, encourage, and embolden us. Join the sisterhood!" —Karen Joy Fowler, author of The Jane Austen Book Club

"I read The Wednesday Sisters in one delicious gulp. With a smart, entrancing voice, Meg Waite Clayton sweeps us into the world of the tumultuous 1960's and beyond, and gives us the gift of five young women coming into their own as friends, mothers, wives and writers. The Wednesday Sisters takes their writing group as its core, and up until the last page, I found myself fervently rooting for each of them as if they were my friends too." — Lalita Tademy, author of Red River and Cane River

"Long before there were book clubs and play dates, there were the Wednesday Sisters–a group of women whose shared love of literature transports them above the pains and pitfalls of ordinary life. While these women may seem like typical suburban housewives, each character has an intriguing secret and a rich interior life that drew me into the story and held me there. This remarkable group of women demonstrates that no matter what period of history in which we live, no matter what race, creed or class we are, no matter what pains we endure, our one unifying salvation can be books. And this book reminded me of why I love to read."— Lolly Winston, author of Good Grief and Happiness Sold Separately

I simply could not put down The Wednesday Sisters.  I gave my heart to Meg Clayton's vivid characters, and I read their intertwined stories breathlessly.  Move over, Ya-ya sisters!—Amanda Eyre Ward, author of Forgive Me and How to be Lost

"Meg Waite Clayton gives us a group of spunky women–mostly young, married mothers–who make the unlikely decision in 1967 to form a writers' group. Their diverse journeys over the next years in their writing and in their lives add up to a compelling and deeply moving testament to the power of women's friendships. I simply couldn't put The Wednesday Sisters down until I'd turned the last page." —Ellen Baker, author of Keeping the House

"Richly intelligent, deeply felt and incandescently original, Clayton's book is a rhapsodic story of female friendship, set against wildly changing times and mores. Not only is the book heartbreaking, funny, and undeniably smart, but truly, this is the kind of book you don't just want to pass on to all your friends. You have to."—Caroline Leavitt, author of Girls in Trouble and Coming Back to Me
What do you think draws the women together in the opening scenes of The Wednesday Sisters? Is it, as Linda suggests, a shared love of books, or is it a shared fascination with Brett's white gloves, or is it both or something else?
Twice in the novel, Linda attempts to ask about Brett's gloves, but she is cut off by one of the other Sisters. Why are they reluctant to cross that line? What do you think the gloves symbolize? Do you think young women meeting Brett today would be as gentle about her gloves? Are there generational differences in the ways women relate?
Ally enters the group in part based on an unspoken assumption that Carrie is her daughter, when the child is in fact her niece. Why do you think Frankie keeps this secret rather than sharing it with the others? Do you think Ally's life would be different today, given the existence of fertility treatments and support groups?
Why does Kath go so far in trying to win Lee back? Did this surprise you? Do you think she would have acted differently if the success of her marriage weren't so important to her parents? If divorce had been as prevalent then as it is now? If she had been able to provide for herself financially? Would you, like Kath's friends, be reluctant to counsel her to leave her husband? Or can you imagine giving her different advice?
Linda's breast cancer and Ally's fertility issues cause each to doubt her own femininity, and leave their friends at a loss as to how to help them. Have you or a friend ever been through a similar crisis? What has helped you hold on to your sense of self through tough times? How have your friendships affected this experience?
Why do you think Frankie finds it so difficult to tell Danny she's writing a book, when she has no trouble at all confiding this fact to her husband's boss? Why are we sometimes reluctant to admit we have dreams?
The old abandoned mansion—"a Miss Havisham house," as Frankie's husband, Danny, calls it, after the moldering mansion in Dickens's Great Expectations—is a haunting presence through most of the novel. What does this house seem to symbolize? Does it mean something different to each of the Sisters? What does its destruction mean?
Published books are mentioned throughout the novel—from The Great Gatsby to The Bell Jar to To Kill a Mockingbird. What role do these titles play in The Wednesday Sisters? Why do you think each of the Sisters chooses the "model book" she does? What model book might you choose yourself?
The writing group the Sisters form in The Wednesday Sisters helps its members grow in self-awareness and self-confidence. Have you been a part of a group—perhaps even a reading or writing group—that has had a similar effect on you? What do you think of the author's message that writing doesn't have to culminate in a book deal; that it can feed the soul of anyone who works hard at it; that with hard work, it is possible to get better; and that writing can help one make sense of one's life?
In one memorable scene, the Wednesday Sisters gather in a funeral parlor and imagine what they can accomplish in their lives that will not perish with their deaths. Did this make you think about writing in a new light? What about motherhood?
The women's movement provides an evolving backdrop to the lives of the women in The Wednesday Sisters. How did you relate the experiences of the Wednesday Sisters to events in your own life or in the lives of women you know who lived at that time?
The Wednesday Sisters make a tradition of watching the Miss America Pageant every year. How do their reactions to the pageant change over time, and why? How does the pageant itself change?
If the Miss America Pageant is one recurring motif in the novel, the space program is another. What similarities and differences do you see in the way the author uses these two iconic slices of Americana?
Brett's novel, The Mrs. Americas, posits a future in which a spaceship crewed by women and carrying a cargo of frozen sperm takes off on a mission to propagate the human race beyond the confines of our solar system. Why do you think Clayton chose to have Brett write this particular novel?
In addition to exploring the empowerment of women and the prevalence of sexism, The Wednesday Sisters addresses other social issues. In what ways are race and class raised in the novel? What did you think of the Sisters' reactions to the fact that Ally's husband, Jim, was from India?
Why do you think the author chose to set the climax of her novel on the set of The Tonight Show with Johnny Carson? How does this scene compare to the Miss America Pageants described in the novel?
Throughout the novel, the Wednesday Sisters' friendships are complex, constantly evolving, and occasionally downright messy. Yet even as their bonds are tested, the group endures and grows stronger. What do you think keeps their friendships growing stronger rather than breaking apart?
In an interview, author Meg Waite Clayton once said, "If an author makes me weep, I am theirs—though why so many of us like books that make us cry puzzles me to no end." Do you share this sentiment? Why do you think readers respond to novels that make them cry?