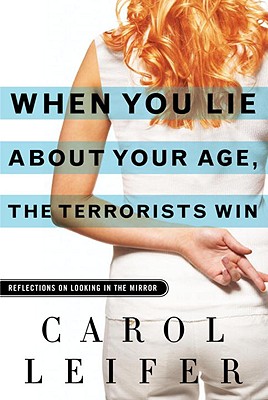 When You Lie About Your Age, the Terrorists Win: Reflections on Looking in the Mirror (Hardcover)
Reflections on Looking in the Mirror
Villard, 9780345502964, 208pp.
Publication Date: March 10, 2009
* Individual store prices may vary.
or
Not Currently Available for Direct Purchase
Description
Stand-up comic and comedy writer Carol Leifer faced a critical dilemma and had only two options: either continue sharing her greatest childhood memory (seeing the Beatles at Shea Stadium in 1966) or lie about her age. But the choice soon became clear: "I see now that when you deny your age, you deny yourself, and when you lie about your age, you become your inauthentic twin. But most important, when you lie about your age, they win. (And of course by 'they,' I mean the terrorists)." Now, in this uproarious book, Leifer reveals all—her age, her outlook, her life philosophy—no holds barred.

• On technology: "I am overwhelmed by anything that involves a cord."
• On motherhood: "Never put your baby's length on a birth announcement. It's a baby, not a marlin."
• On collagen injections: "Your lips are not meant to be flotation devices for your face in case it capsizes."
• On tattoos: "If you plan on having your lover's name tattooed on your arm, always leave room before it for a possible 'I Hate' down the road."
• On etiquette: "Never refer to a woman as 'ma'am,' even if she's ninety years old. Nobody likes it."

After years of stand-up and a wave of successful television shows, Carol Leifer finally (and hilariously) puts it all down on paper–the wise thoughts, witty stories, and wonderfully way-out observations guaranteed to have you nodding in agreement and laughing out loud in sheer delight.
About the Author
Carol Leifer is an accomplished stand-up comedian and an Emmy-nominated writer and producer for her work on such television shows as "Seinfeld, The Larry Sanders Show, Saturday Night Live," and the "Academy Awards." She has starred in several of her own comedy specials, which have aired on HBO, Showtime, and Comedy Central. Her "big break" came when David Letterman unexpectedly showed up one night at the Comic Strip in New York City and caught Carol's show. His visit led to her making twenty-five guest appearances on Late Night with David Letterman. Carol has also been seen on "The Tonight Show, Real Time with Bill Maher, Late Night with Conan O'Brien," and "The Oprah Winfrey Show." She starred in and created the WB sitcom "Alright Already." She lives in Santa Monica with her partner, their son, and their seven rescue dogs.
Praise For When You Lie About Your Age, the Terrorists Win: Reflections on Looking in the Mirror…
"This book reflects the wise, knowing person Carol has become, and the hysterically funny one she always was. I recommend it highly - its strong enough for a man...but made for a woman. I couldn't put it down."—Bill Maher

"These essays have stirred in me a foreign, disgusting and heretofore dormant urge to hug someone, in this case the author. If I become human as a result of reading this, so help me God I will sue her for every dollar she makes from this profound, insightful, and hilarious book."—Larry David

"I discovered Carol Leifer at an open mike night in the late 70's on the Upper East Side of Manhattan.  It didn't take me two seconds to realize how special her talent is.  (Two seconds, that's how good I am, by the way).   But she really has one of the most uniquely hilarious minds of anyone I've ever met.  We have worked together on countless projects.  If you have never heard how she thinks, this book is the perfect introduction."—Jerry Seinfeld

"Deeply honest, inspiring, and funny. This is a book about the unpredictability of life and finding yourself that is written by a very, very funny woman. Read this now before it's made into a movie, so you can join me in saying, "I liked the book better!"
Trust me: I'm generally as accurate as Seinfeld. It's really a winner."—Garry Shandling

"Carol and I go way back. I'm not exactly sure what that means but we've known each other for a long time. Here's what I know about Carol. She's funny, she's smart, she's kind and she's a good writer. You will find out all of those things for yourself when you read this book. I laughed, I cried, (but that's because I leaned back laughing and hit my head on the wall). I think you'll enjoy this book as much as I did-except for the part when I hit my head."—Ellen DeGeneres

"You'll love this. It's the best book ever."—Chris Rock

"Carol Leifer is one of the most sane funny folks around—her book is full of love light and laughter. Her take on the world will make u smile and warm your heart. So buy it already."—Rosie O'Donnell

"Carol Leifer's book is the perfect antidote to aging. If laughter is the best medicine, then her writing is an amazing beauty treatment. It's like a clay mask for the soul."—Margaret Cho
Advertisement