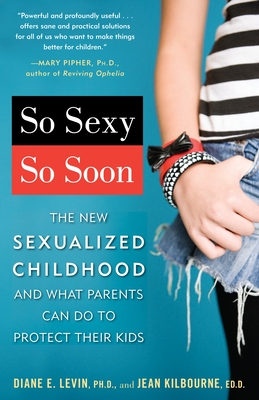 So Sexy So Soon (Paperback)
The New Sexualized Childhood and What Parents Can Do to Protect Their Kids
Ballantine Books, 9780345505071, 240pp.
Publication Date: July 21, 2009
* Individual store prices may vary.
Description
Risqué Halloween costumes for young girls. T-shirts that boast "Chick Magnet" for toddler boys. Sexy content on almost every television channel, as well as in movies and video games. Popular culture and technology inundate our boys and girls with an onslaught of graphic sexual messages at earlier ages than ever before. Without the emotional sophistication to understand what they are doing and seeing, kids are getting into increasing trouble emotionally and socially. Parents are left shaking their heads, wondering: How did this happen? What can we do?

Diane E. Levin, Ph.D., and Jean Kilbourne, Ed.D., internationally recognized experts in, respectively, early childhood development and the impact of the media on children and teens, offer parents essential, age-appropriate strategies to counter the assault. Filled with savvy suggestions, helpful sample dialogues, and poignant stories from families dealing with these issues, So Sexy So Soon provides parents with the information, skills, and confidence they need to discuss sensitive topics openly and effectively–so their kids can just be kids.
About the Author
Diane E. Levin, Ph.D., (right) is a professor of education at Wheelock College in Boston, where she has been involved in training early childhood professionals for more than twenty-five years. An internationally recognized expert who helps professionals and parents deal with the effects of violence, media, and commercial culture on children, Levin is a senior adviser to the PBS parents' website for girls, the co-founder of the Campaign for a Commercial-Free Childhood, and the author or co-author of seven other books, including Remote Control Childhood? and The War Play Dilemma. She is a frequent keynote speaker and workshop presenter and has been a guest on many radio and television programs. She lives in Cambridge, Massachusetts.

Jean Kilbourne, Ed.D., is internationally recognized for her pioneering work on alcohol and tobacco advertising and the image of women in advertising. The New York Times Magazine named her one of the three most popular speakers on college campuses. Her award-winning films include the Killing Us Softly series, Slim Hopes, Calling the Shots, and Spin the Bottle. The author of Can't Buy My Love: How Advertising Changes the Way We Think and Feel, she is a frequent guest on radio and television programs such as Today and The Oprah Winfrey Show. She has testified for the U.S. Congress and been an adviser to two surgeons general. A Senior Scholar at the Wellesley Centers for Women, she lives in Newton, Massachusetts.
Praise For So Sexy So Soon: The New Sexualized Childhood and What Parents Can Do to Protect Their Kids…
"If you want to make the world safe for both the boys and the girls you care about, you must read this book. Diane Levin and Jean Kilbourne really understand what we're fighting against, and they also show us a way to transform the world for our children–and make us feel empowered in the process."—Rosalind Wiseman, author of Queen Bees and Wannabees

"This book–by two of America's leading experts on the effects of media on children–is powerful and profoundly useful. It is packed with great stories and poignant examples of the stress children face in our sex-soaked culture. Best of all, the authors offer sane and practical solutions for all of us who want to make things better for children, parents, schools, and the culture at large."—–Mary Pipher, Ph.D., author of Reviving Ophelia

"So Sexy So Soon is a most timely and important book. For parents who are troubled and worried about what their children are seeing and hearing, it offers helpful guidance and support; it not only documents the trends but provides parents with many useful strategies to combat them."—David Elkind, Ph.D., author of The Hurried Child

"Levin and Kilbourne, two of the nation's most astute analysts of media and youth, have produced the definitive book on the sexualization of childhood. Complete with sample conversations, guidelines, and practical advice, this book will teach you how to keep your child healthy as you navigate the minefields of popular culture. Essential reading for parents, educators, and health professionals."—Juliet Schor, professor of sociology, author of Born to Buy

"Every parent should read this eye-opening book. It is a rallying cry to take a stand against the commercial sexualization of children. I highly recommend it."—Alvin F. Poussaint, M.D., professor of psychiatry, Harvard Medical School, and director of the MediaCenter at Judge Baker Children's Center

"Levin and Kilbourne show us how children, from their earliest years, learn about sex, sexuality, and relationships. Best of all, they give us concrete strategies to fight harmful influences and help us nurture children toward loving relationships now and throughout their lives."—Nancy Carlsson-Paige, author of Taking Back Childhood and Professor of education, Lesley University