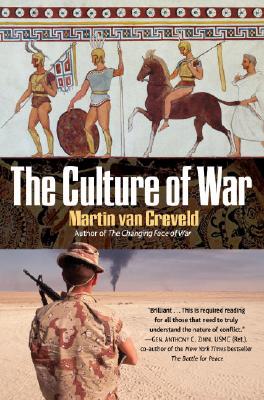 The Culture of War (Hardcover)
Presidio Press, 9780345505408, 512pp.
Publication Date: September 30, 2008
* Individual store prices may vary.
or
Not Currently Available for Direct Purchase
Description
A respected scholar of military history and an expert on strategy, Martin van Creveld recently explored the modern world's shifting method of combat in The Changing Face of War. Now, in The Culture of War, he argues that there is much more to war than just soldiers killing one another for whatever reason.

War has always been a topic of deep intrigue. Fighting itself can be a source of great, perhaps even the greatest, joy; out of this joy and fascination an entire culture has grown–from the war paint of tribal warriors to today's "tiger suits," from Julius Caesar's red cloak to Douglas McArthur's pipe, from the decorative shields of ancient Greece to today's nose art, and from the invention of chess around 600 A.D. to the most modern combat simulators. The culture of war has its own traditions, laws and customs, rituals, ceremonies, music, art, literature, and monuments since the beginning of civilization.

Throughout the ages, the culture of war has usually been highly esteemed. Not so in today's advanced countries, which tend either to mock it ("military intelligence is to intelligence what military music is to music") or to denounce it as "militaristic." This provocative book, the first of its kind, sets out to show how wrongheaded, and even dangerous, such attitudes are. The Culture of War argues that men and women, contrary to the hopes of some, are just as fascinated by war today as they have been in the past. A military that
has lost touch with the culture of war is doomed not merely to defeat but to disintegration.

Innovative, authoritative, and riveting, this is a major work by one of the world's greatest and most insightful military historians.
About the Author
Martin van Creveld, professor of history at Hebrew University, Jerusalem, is one of the best-known experts on military history and strategy. He has written eighteen books, which have been translated into fourteen languages; most notable among them are The Changing Face of War: Lessons of Combat, from Marne to Iraq; Supplying War: Logistics from Wallenstein to Patton; Command in War; and The Transformation of War. Professor van Creveld has consulted to the defense departments of numerous governments, including that of the United States. He was the second civilian expert ever to be invited to address the Israeli General Staff, and has lectured or taught at practically every institute of strategic military study. Van Creveld has appeared on CNN, BBC, and other international networks and has been featured in many magazines and newspapers, including Newsweek and the International Herald Tribune.
Praise For The Culture of War…
Advance praise for The Culture of War

"This splendid volume affirms what we already know: Martin van Creveld is the most creative, most insightful, and most important military historian writing in English today."
–Andrew J. Bacevich, author of The New American Militarism: How Americans Are Seduced by War

"For more than thirty years Martin van Creveld has been one of the world's foremost military thinkers. In The Culture of War, van Creveld once more shows an exceptional mastery of his subject as he explores a vital but rarely acknowledged aspect of war, its deep-rooted culture. As he did in his provocative The Transformation of War, van Creveld argues against the premise that wars are fought only for political ends fails to recognize that war is also an end in itself. Van Creveld presents his case powerfully and convincingly with a rich mixture of historical and contemporary examples. Citizens and soldiers alike will find this book informative, novel, and thought-provoking."
–Lt. Gen. Paul K. Van Riper, U.S. Marine Corps (Retired)

"Martin van Creveld continues to give us insight into the many facets of war. Each time he adds another dimension, sharing his broad knowledge and brilliant analytical mind. The Culture of War brings us another step into understanding the underlying issues."
–Dr. Joel P. Wyler, chairman, Granaria Holdings B.V.
Advertisement