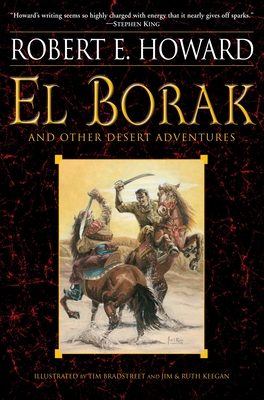 El Borak and Other Desert Adventures (Paperback)
Del Rey Books, 9780345505453, 559pp.
Publication Date: February 9, 2010
Description
Robert E. Howard is famous for creating such immortal heroes as Conan the Cimmerian, Solomon Kane, and Bran Mak Morn. Less well-known but equally extraordinary are his non-fantasy adventure stories set in the Middle East and featuring such two-fisted heroes as Francis Xavier Gordon--known as "El Borak"--Kirby O'Donnell, and Steve Clarney. This trio of hard-fighting Americans, civilized men with more than a touch of the primordial in their veins, marked a new direction for Howard's writing, and new territory for his genius to conquer. The wily Texan El Borak, a hardened fighter who stalks the sandscapes of Afghanistan like a vengeful wolf, is rivaled among Howard's creations only by Conan himself. In such classic tales as "The Daughter of Erlik Khan," "Three-Bladed Doom," and "Sons of the Hawk," Howard proves himself once again a master of action, and with plenty of eerie atmosphere his plotting becomes tighter and twistier than ever, resulting in stories worthy of comparison to Jack London and Rudyard Kipling. Every fan of Robert E. Howard and aficionados of great adventure writing will want to own this collection of the best of Howard's desert tales, lavishly illustrated by award-winning artists Tim Bradstreet and Jim & Ruth Keegan.
About the Author
Robert E. Howard was born January 22, 1906, southwest of Fort Worth. His father, a country physician, moved the family around Texas before settling in the small town of Cross Plains in 1919. While in high school, Howard began submitting stories to magazines, and Weird Tales magazine accepted Spear and Fang. Solomon Kane was the first of his continuing characters to see print; others included King Kull and Bran Mak Morn. Howard tried detective fiction, horror, and Paul Bunyanesque tales, then in 1933, Weird Tales introduced Conan the Cimmerian. In 1935 his mother was admitted to the King's Daughters Hospital. Told she would never recover, he committed suicide in 1936.
Praise For El Borak and Other Desert Adventures…
"Howard's writing seems so highly charged with energy that it nearly gives off sparks."—Stephen King


"Howard had a gritty, vibrant style—broadsword writing that cut its way to the heart, with heroes who are truly larger than life."—David Gemmell 


"For stark, living fear . . . what other writer is even in the running with Robert E. Howard?"—H. P. Lovecraft
Advertisement