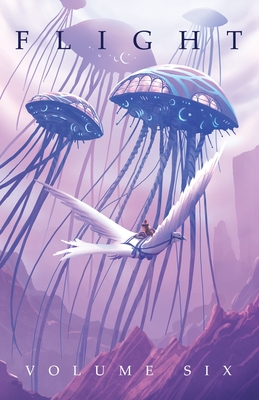 Flight, Volume Six (Paperback)
Villard Books, 9780345505903, 283pp.
Publication Date: July 21, 2009
Description
STORIES BY set in 2 columns] JP Ahonen
Graham Annable
Bannister
Phil Craven
Mike Dutton
Michel Gagne
Cory Godbey
Rodolphe Guenoden
Steve Hamaker
Kazu Kibuishi
Andrea Offermann
Richard Pose
Justin Ridge
Rad Sechrist
Kean Soo "Regardless of where it's shelved, this book belongs in every library."--Library Journal, on Flight: Volume One

"The sheer force of creative energy on display is impressive."--Publishers Weekly, starred review, on Flight: Volume Two "Sumptuously produced . . . The emphasis on the visual is Flight's most notable strength."--Booklist, on Flight: Volume Three

"Visually sophisticated . . . The artists featured in Flight are terrifically accomplished."--Pennsylvania Patriot-News, on Flight: Volume 4
About the Author
Kazu Kibuishi was 24 years old and working full-time in the animation industry when he began developing the idea of doing Flight. He began contacting his friends in the animation, comics, and graphic novel world to see if they would want to join the project. He now works from his home studio in Pasadena, California, creating and promoting Flight and his popular young adult comic Daisy Kutter, which was nominated as an American Library Association Best Book for Young Adults--the only graphic novel on the list in 2005.
Advertisement