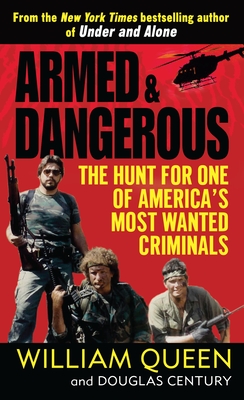 Armed and Dangerous: The Hunt for One of America's Most Wanted Criminals (Mass Market Paperbound)
The Hunt for One of America's Most Wanted Criminals
Ballantine Books, 9780345505989, 232pp.
Publication Date: July 28, 2009
* Individual store prices may vary.
or
Not Currently Available for Direct Purchase
Description
As an agent with the Bureau of Alcohol, Tobacco and Firearms, William Queen must tackle a number of challenging cases. In the winter of 1985, he faces his toughest mission to date: He must apprehend Mark Stephens, a notorious narcotics trafficker who has been terrorizing the communities around Los Angeles with frequent rampages involving machine guns and hand grenades. A recluse living in the treacherous backwoods outside the city, Stephens is a wily survivalist. Nobody has been able to catch him, but Queen is determined to take him down. Queen's unique expertise is not taught in any police academy or ATF training seminar-he honed his outdoorsman abilities as a kid. He is adept at hunting and trapping and living for weeks in the wild. Queen will use these skills-along with surveillance, confidential informants, and intelligence gathering-as he doggedly tracks his dangerous quarry, a chase that culminates in a gripping showdown high in the San Bernardino Mountains.
About the Author
William Queen is the author of the New York Times bestseller Under and Alone and Armed and Dangerous. He spent twenty years as a special agent with the U.S. Department of the Treasury, Bureau of Alcohol, Tobacco and Firearms. A Vietnam veteran, Queen devoted his career to law enforcement, serving first as a local police officer and then as a U.S. Border Patrol agent before joining ATF. He is among the country's foremost experts on the violent world of outlaw motorcycle gangs and has lectured widely to law-enforcement organizations in multiple countries. For his ground-breaking undercover work playing the part of biker "Billy St. John," William Queen was awarded the 2001 Federal Bar Association's Medal of Valor. Douglas Century is the author of Barney Ross and Street Kingdom, the co-author of the New York Times bestsellers Under and Alone and Takedown, and a contributing writer for The New York Times. His nonfiction work has appeared in such publications as Details, Rolling Stone, Men's Journal, New York, Vibe, Radar, Blender, Newsday, and The Guardian. Century is a cum laude graduate of Princeton University. He lives in New York City. From the Hardcover edition.
Praise For Armed and Dangerous: The Hunt for One of America's Most Wanted Criminals…
"Gripping . . . fascinating and well-told, creating a vivid picture of the risks in undercover work."—Cleveland Plain Dealer


"Fraught, shivery fun that will paint you to your chair . . . The narrative [rolls] toward a finale sure to rachet up readers' anxiety levels."—Kirkus Reviews

Advertisement