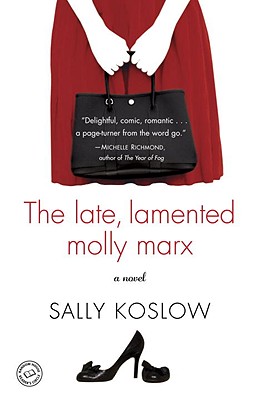 The Late, Lamented Molly Marx
A Novel
Paperback

* Individual store prices may vary.
Other Editions of This Title:
MP3 CD (12/1/2016)
Compact Disc (5/1/2009)
Compact Disc (5/1/2009)
Hardcover (5/19/2009)
MP3 CD (5/1/2009)
MP3 CD (5/1/2009)
MP3 CD (6/5/2012)
Compact Disc (6/5/2012)
Compact Disc (6/5/2012)
Description
The circumstances of Molly Marx's death may be suspicious, but she hasn't lost her sense of humor. Newly arrived in the hereafter, aka the Duration, Molly discovers that she can still keep tabs on those she left behind: Annabel, her beloved four-year-old daughter; Lucy, her combustible twin sister; Kitty, her piece-of-work mother-in-law; Brie, her beautiful and steadfast best friend; and of course her husband, Barry, a plastic surgeon with more than a professional interest in many of his female patients. As the police question Molly's circle of intimates about the circumstances of her death, Molly relives the years and days that led up to her sudden end—and takes responsibility for her choices in life.

    Exploring the bonds of motherhood, marriage, and friendship, and narrated by a memorable and endearing character, The Late, Lamented Molly Marx is a hilarious, deeply moving, and thought-provoking novel that is part mystery, part love story, and all heart.
Praise For The Late, Lamented Molly Marx: A Novel…
"Reading Sally Koslow's latest novel is like being at a cocktail party with the sharpest guest in the room. With her laser-like—and very funny—observations of human foibles, her wit and insight , Koslow has created a character with both heart and brains. You will love every minute you spend with her!"—Emily Listfield, author of Best Intentions

"Heaven only knows how Sally Koslow pulled off this novel with such precision and wit, and a narrative that drives you to the very last sentence. A story of love, friendship and family told from both sides, The Late, Lamented Molly Marx is a treasure no matter how you look at it."—Betsy Carter, author of Swim to Me

"Molly Marx speaks from the grave with a voice that is fresh, funny and warm. In examining Molly's late, lamented life, Sally Koslow delivers a story about marriage, motherhood, and friendship that anyone who has ever been a spouse, a parent, or a friend will recognize. And who knew hanging out with the dead could be such a delight!"—Meg Wate Clayton, author of The Wednesday Sisters

"Never has a voice from the grave sounded so delightful. Darkly comic, unflinchingly romantic, The Late, Lamented Molly Marx is a page-turner from the word go."—Michelle Richmond, author of The Year of Fog

"Koslow knows her way around expertly tuned phrasing, and Molly is a delightful gem of a heroine. Equal parts self-deprecating, wry and sassy, Molly is honest about her faults and equally forgiving of the others' as she reviews her life with a hearty does of honesty and humor . . . The narrative's heavy dose of hilarity and heartbreak will win readers over."—Publishers Weekly

Koslow's story of "a life examined" in the hereafter makes readers truly care about her protagonist, foibles and all. –Booklist


"By the time we meet Molly Divine Marx in the opening pages of The Late, Lamented Molly Marx, she is dead. But that by no means detracts from the many charms of Sally Koslow's wonderful new novel … Filled with remarkable clarity about how to embrace life while you can."—BookPage

"Dive into one of the season's standout cliff-hangers… When Marx observes her intimates–and the investigation into her death–from the hereafter, she's both tickled and ticked off by what she learns. You will be, too."–Self

"For a weekend away … [An] unexpectedly spunky book about life after death."–Redbook

"Will keep you hooked to the end."—Real Simple Real Simple

"[A] comic romp through the afterlife."–More

"Young Manhattan mom cut down in the prime of life lands at the pearly gates with some unfinished buisiness in a frothy whodunit liberally sprinkled with Our Town-type wisdom . . . Koslow authentically details the privileged world Molly must leave behind."–Kirkus 

"Required reading"– Billy Heller, New York Post and Newsday

"Sally Koslow's pacing, dialogue fill me with envy. I'd love to produce writing that flows this effortlessly."– Amelia Robertson, The Roanoke Times

"Best Summer Reads."– KCAL TV, LA

"Essential for your beach bag this summer."– Associated Content

"Hilarious and thought-provoking"– Jewish Community Voice

"Razor-sharp wit...the characters would be what recommends the novel."– Book Club Classics

"Relax with a new read that offers a little bit of everything."– Woman's World

"Truly superb writer...the questions about what happened to Molly will keep you guessing, perhaps beyond the final chapter."– John A. Broussard, I Love A Mystery

"Funny, poignant…"– Life & Style Weekly

"This breath-of-frsh-air novel is...part mystery and all charm.. With a touch of irony and down-to-earth philosophy."–Jewish Book World

"I found myself holding my breath--the mark of a story that's really grabbing me. Surprisingly moving, an ultimately different read than you might expect."–Lizzie Rizzo at Everyday Goddess

"Molly steals the show. It's hard not to fall in love with (her) even as she lays out her faults, regrets and frustrations.... Koslow's writing style grabbed me from the first page, and took me on an emotional ride."– Anna at Diary of an Eccentric

"I didn't want it to end, because (the characters) were people I wanted to eat dinner with, and I didn't want to say goodbye."– NomadReader

"My book club would enjoy this book on many levels. Not only is it a very entertaining read because the narrator is...funny, but this book goes deeper and causes you to reflect on all sorts of relationships--marriage, friendship, sisterhood, parenthood and...romantic love."– Julie P. at Booking Mamma

"A brilliant, entertaining read about the choices we make in life..."– Malena Lott at Athena's Bookshelf

"I absolutely--hands down--adored this book...one of those rare books that draws you in and you feel as if you are experiencing it rather than reading it."– Nely at Bookwormygirl.blogspot.com

"I can't gush enough… This is going to be the perfect book for the summer."– Mary at www.maryinhb.blogspot.com

"Mommy lit with a dash of mystery and a generous helping of fantasy--a mix that works surprisingly well."– curvy*mommy's corner

"The book is a celebration of the imperfect lives we choose to lead."– Style Substance Soul

"Spirited and lively...you will be laughing outloud."– Missy Garner at Missy's Book Nook

"I loved the characters...people we all know."– 5 stars from Terri at Night Owl Romance

"Tender, poignant and touches the reader."– Cherokee at Coffee Time Romance & More

"It's Molly's flaws that make her seem so real, so honest."– Shon at Me, My Book and the Couch

"A mix of mystery, humor and chutzpah"– Leah at Culturistas

"Amazing! Koslow breathes a depth into Molly that makes you remember her after you close the cover."– Kimberly at BooksNMoore

"This book really pulled me in... Everyone who likes funny, lively writing will love it."– Open Salon

"An optimistic rendering of what it means to be human and confused"– Dory at For the Love of Reading

"I really liked Molly. A little like The Lovely Bones without the gut-wrenching."– Marissa at Writings of the Loud Librarian....: Books A Lot
 
"A gem...I felt in love with the main character."– Kay at Goodreads.com

"I really liked this book-the beginning and end made me cry like a baby."– Jennifer at GoodReads

"Very funny and touching"– Amy at Goodreads.com
Ballantine Books, 9780345506214, 336pp.
Publication Date: June 8, 2010
About the Author
Sally Koslow is the author of the novel Little Pink Slips. Her essays have been published in More, O: The Oprah Magazine, and The New York Observer, among other publications. She was the editor in chief of both McCall's and Lifetime, was an editor at Mademoiselle and Woman's Day, and has taught creative writing at the Writing Institute of Sarah Lawrence College. The mother of two sons, she lives in New York City with her husband.
or
Not Currently Available for Direct Purchase